People Matter
Questback ble grunnlagt på et enkelt premiss om at mennesker er viktige, og at de er i stand til å tilby innsikt som er nødvendig for suksess i en bedrift. Vi utvikler skalerbare løsninger som er designet for å gi akkurat din bedrift et konkurransefortrinn ved å øke produktiviteten blant de ansatte og lojalitet blant kunder gjennom en kultur basert på tillit.
Resultater er viktige
Questbacks løsninger er spesialbygget for å gi meningsfylt dialog over hele kontaktlivssyklusen, sømløst fange opp tilbakemeldinger som kommer ad hoc eller er planlagt, prosessbasert
og etter forespørsel.
Disse løsningene gjør det mulig å samle innsikt og påvirke meningsfylt forandring, samtidig som de bygger dypere forbindelser med ansatte og kunder gjennom tillit. Det kombinerer kraften i dialog og åpenhet med evner til å analysere tilbakemeldinger og forvandle innsikt til konkrete forretningsresultater.
Samle trådene i dag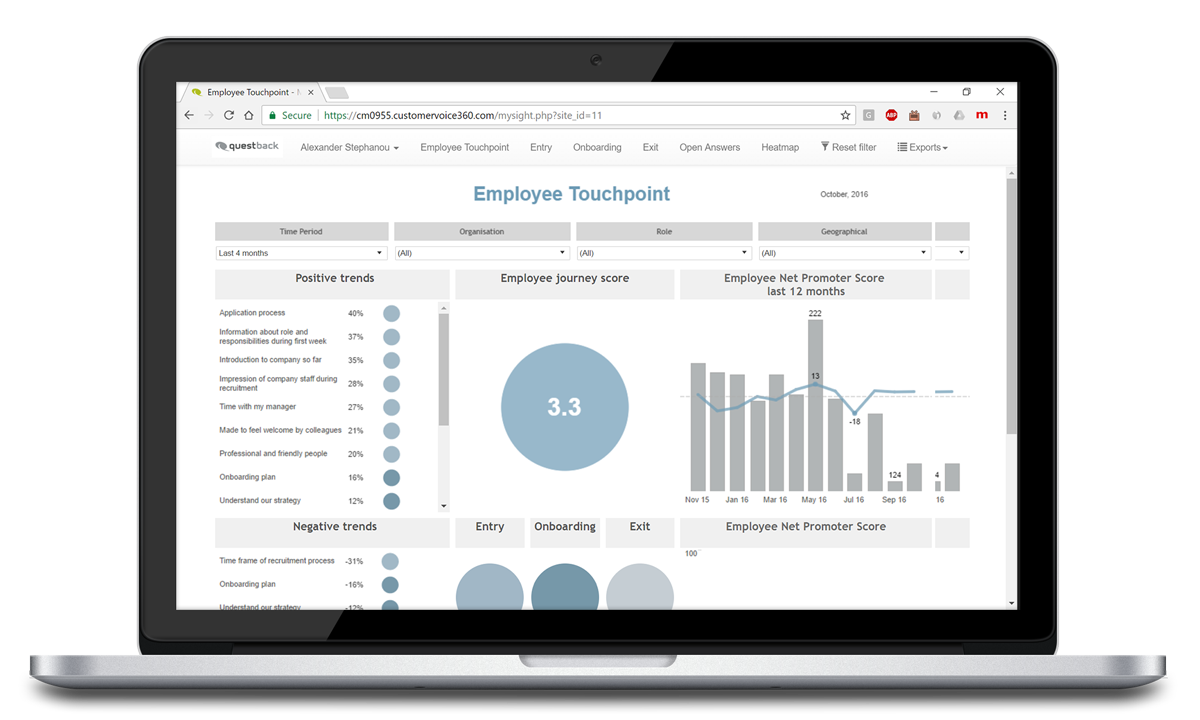 Dokumentert suksess er viktig
Vi betjener tusenvis av selskaper i mer enn 50 land over hele verden, og hjelper dem med å forbedre ansattes engasjement, kundeopplevelse og markedsinnsikt. Questback ble grunnlagt i 2000, og er blitt en global leder innen bedriftstilbakemeldinger. Vi leverer spesialdesignede tilbakemeldingsløsninger som er laget for å hjelpe deg med å fange innsikt fra de menneskene som er avgjørende for bedriften din.

Produktivitet
En betydelig økning i ansattes engasjement og produktivitet.

Turnover
Reduser andel ansatte og kunder som forlater bedriften.

Kreativitet
Større innovasjon og raskere vekst.
Vi fokuserer på mennesker, innsikt og handlinger.
People matter. Kundeinnsikt er grunnlaget for suksess
I en tid med kontinuerlig innovasjon, hyperkonkurranse og rask digitalisering, kan du få en nytteeffekt ved å omdefinere de viktigste relasjonene: de ansatte. For å fremme suksess må en bedift etablere en tillitskultur gjennom en syklus med aktiv lytting, gjennomsiktig dialog, innsiktsfull analyse og meningsfylt handling. Tillit er den kraften som må til for å endre organisasjonen, ved å skape en høytytende kultur som fører til konkurransefordeler.
Mennesker er viktige, dra nytte av innsikten deres.
DriveCareInnovate
Våre tre kjernevirksomhetsverdier (Drive, Care, og Innovate) gjenspeiler vår tilnærming om at mennesker er viktige, og sikrer at vi alltid er innovative, alltid streber etter å komme videre og alltid tar vare på våre kunder og ansatte.
Sikkerhet er viktig
Våre datasentre i Tyskland og USA styres av de høyeste standardene med følgende sertifiseringer:
Slik ble vi verdensledende innen feedback-håndtering
Jobben er å ligge foran ved visjoner, funn, utfordringer, samarbeid, hardt arbeid og noen ganger mye moro.


A Financial Times article sparks the Questback idea: a feedback platform to bring better insight to business.
1999


Questback is founded in Oslo.
JAN, 2000


Questback web-based surveys make paper questionnaires history
2001


Taking success abroad: Questback office opens in Sweden
2004


European leap: Questback moves into 11 new countries The launch of online panels deepens engagement capabilities for market research
2005


Questback wins "Entrepreneur of the Year" in Norway
2006


Questback acquires Refleks and Easy Research in Norway and Sweden respectively. Reiten & Co is now majority owner.
2008


Communities introduced, blending quantitative and qualitative research
2009


The launch of online panels deepens engagement capabilities for market research
2009


Questback acquires Digium Oy, the Finnish market leader
2010


Germany's leading research software firm Globalpark acquired. . Questback now serving over 50 countries.
2011


The numbers of Questback surveys sent now exceeds 1 billion
2012


Mobile first: Responsive layouts increase survey complete rates Service layer for enterprise integration introduced.
2013


Realtime Analytics & Dashboards launched. Questback unveils Leadership compass bringing next generation feedback tools to the HR industry
2014


Questback continues asking what's next while pushing boundaries in the feedback industry
2015 +


Completion of $22M of additional funding for growing Questback further