People Matter
Questback was founded on the simple premise that people matter and are able to provide the insights necessary to drive business success. We build scalable solutions designed to help global enterprises achieve competitive advantage by enhancing employee productivity and customer loyalty through a culture of trust.
Results Matter
Questback solutions are purpose-built to facilitate meaningful dialogue across the full engagement lifecycle, seamlessly capturing ad-hoc, scheduled, process-based
and on-demand feedback.
These solutions enable organizations to gather insights and affect meaningful change while building deeper connections with employees and customers through trust. It combines the power of dialogue and transparency with capabilities to analyze feedback and transform insight into tangible business results.
Close the Loop Today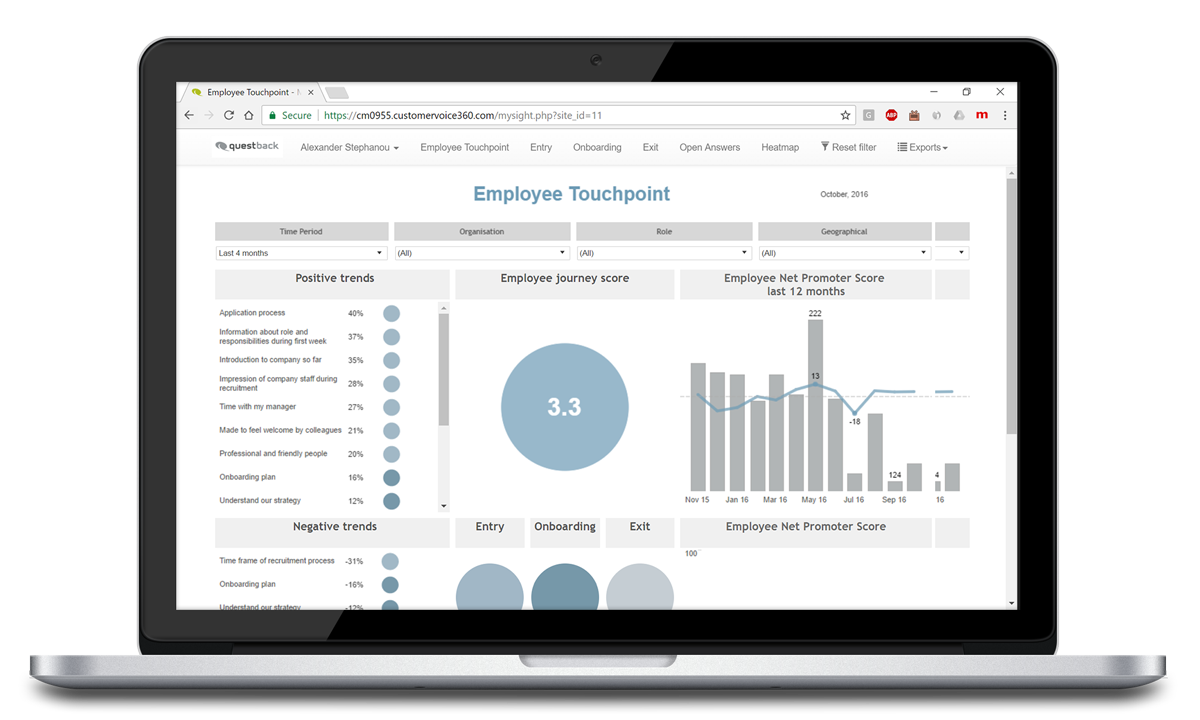 Scale and Proven Success Matter
We serve thousands of companies in more than 50 countries across the globe, helping them improve employee engagement, customer experience and market insight. Founded in 2000, Questback has become a global leader in enterprise feedback by delivering purpose-built feedback solutions designed to help you capture insights from the people essential to your enterprise.

Productivity
A significant increase in employee engagement and productivity. 

Retention
Decreased employee and customer turnover.

Creativity
Greater innovation and faster growth.
People Matter. They Drive Business Success.
At a time of continuous innovation, hyper-competition and rapid digitization, organizations benefit by redefining their most important relationships: their people. To promote success, organizations must establish a culture of trust through a cycle of active listening, transparent dialogue, insightful analysis and meaningful action. Trust holds the power to transform your organization, creating a high-performance culture leading to competitive advantage.
People matter, get their insight.
DriveCareInnovate
Our three core corporate values (Drive, Care and Innovate) reflect our approach that people matter and ensure that we are always innovating, always striving to move forward and always caring for our customers and employees.
Security Matters
Our data centers in Germany and US are governed by the highest standards with the following certifications:
How we became a world leader in feedback management
The quest to get ahead is filled with vision, discovery, challenges, collaboration, hard work and sometimes a lot of fun.


A Financial Times article sparks the Questback idea: a feedback platform to bring better insight to business.
1999


Questback is founded in Oslo.
JAN, 2000


Questback web-based surveys make paper questionnaires history
2001


Taking success abroad: Questback office opens in Sweden
2004


European leap: Questback moves into 11 new countries The launch of online panels deepens engagement capabilities for market research
2005


Questback wins "Entrepreneur of the Year" in Norway
2006


Questback acquires Refleks and Easy Research in Norway and Sweden respectively. Reiten & Co is now majority owner.
2008


Communities introduced, blending quantitative and qualitative research
2009


The launch of online panels deepens engagement capabilities for market research
2009


Questback acquires Digium Oy, the Finnish market leader
2010


Germany's leading research software firm Globalpark acquired. . Questback now serving over 50 countries.
2011


The numbers of Questback surveys sent now exceeds 1 billion
2012


Mobile first: Responsive layouts increase survey complete rates Service layer for enterprise integration introduced.
2013


Realtime Analytics & Dashboards launched. Questback unveils Leadership compass bringing next generation feedback tools to the HR industry
2014


Questback continues asking what's next while pushing boundaries in the feedback industry
2015 +


Completion of $22M of additional funding for growing Questback further
We're pleased that our approach, innovation and customer success has been recognized by independent authorities and thought leaders across the world.