Gör smartare undersökningar och få lojalare kunder
En konsekvent positiv kundupplevelse ökar lönsamhet, effektivitet och skapar lojalitet. Att ge kunden en upplevelse som är positiv varje gång och varhelst era kunder kommer i kontakt med er, har blivit den viktigaste frågan idag.
Kundupplevelser som skapar lojala kunder börjar och slutar med kundfeedback. I "Din guide till bättre kundfeedback" berättar vi om:
Feedback som förbättrar kundupplevelser
Kundfeedback som kan omsättas till affärsnytta
NPS och lojalitet
Hur man får med hela organisationen på tåget
Best practices för kundfeedback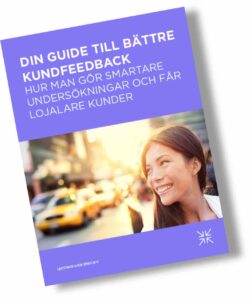 Try Questback
Questback is a leading Customer and Employee Experience solution that makes it easy to collect, analyse and take action on key stakeholder insights.