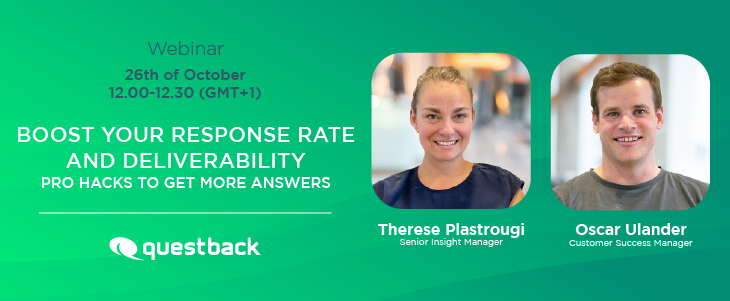 Boost your response rate and deliverability – Pro hacks to get more answers
Do you want to extract more insights from your surveys, but struggle with poor response rates? It's a common challenge. But don't worry, our upcoming webinar is here to transform your approach!
Join us for 'Boost Your Response Rate and Deliverability – Pro Hacks to Get More Answers.' It's time to empower your survey strategies, conquer response-rate obstacles, and gain the valuable insights you need to propel your business forward.
Our experts Therese and Oscar will unveil trade secrets that top-tier organizations use to inspire survey engagement. You'll learn how to:
✅ Craft compelling survey questions that evoke thoughtful responses.
✅ Leverage smart design to enhance deliverability.
✅ Utilize cutting-edge strategies to motivate respondents.
✅ The power of SMS and survey domain
No more settling for limited data. No more second-guessing your survey strategies. It's time to maximize your response rates and harvest valuable insights like never before!
📅 Mark your calendar and prepare to supercharge your survey skills. The path to higher response rates and greater insights awaits!"
Remember to include the date, time, and link for registration to the webinar.
Språk: English
2023-10-26 12:00
Testa Questback
Questback är en ledande lösning för kund och medarbetarfeedback som gör det enkelt att samla in, analysera och agera på insikter från kunder och medarbetare.