And why is everyone still talking about the agile research? 
The term 'agile' has been very much in vogue this past year. We saw the growth of agile organizations, agile teams, and agile leaders, all in response to an ever-increasing need for businesses to be ultra-responsive to the market and mood around them. Now, insight practitioners are in on the act and focused on agile research. In this blog, I talk through what this means in practice and how companies should use agile research practices to keep themselves relevant and one step ahead.
Interested in our feedback system?
Try Questback 14 days for free.
Send surveys and analyse reports
Get started in 5 minutes
No credit card required
Comparing Apples with Apples
A definition seems like a good place to start. 
I see it simply as the ability to gather, interpret and act on Market Research in a time-appropriate manner, using cutting edge tools to sharpen the focus of insight generation. And by that definition alone, the term or ability to conduct, agile research is nothing new. But what is perhaps new is the demand for efficiency. In today's world, 'less is more' holds for market research as well (though I'd argue, it's at odds with the reality that there's just so much data out there to synthesize and distill!). So, where do brands and agencies start and which agile practices can make a real difference? 
Agile Research is end to end
Technology is a key enabler for agile research and (welcomely) cuts out some stages in the research process from ideation to insight. Whether it be simple, intuitive DIY survey tools that enable questions to be asked closer to the moment or responsive design across devices allowing the respondents to answer surveys at a time that is most convenient to them.
How the research is carried out also helps with agility. It's now commonplace to configure surveys delivered via SMS or Whatsapp, via a Web intercept or other event-driven mechanism which delivers survey content that is both tailored and relevant to the topic at hand virtually in situ (and provide instant insights to boot). These kinds of approaches are perfect if you want to understand key aspects of the customer journey or employee experience during the moment or when they interact with key milestones or touchpoints.
The cornerstone of market research is an unwavering belief in the power of rational thought and verbal expression. Still, the propensity to overthink does make the industry slow at adapting to the pace of today's business cycles. Clients need to address business questions directly with brevity over rigor, with novelty over tradition, with purpose over perfection.
Crucially though, agile is not only about asking survey questions quickly. It's also about making the resulting insights available to decision-makers in good time and in ways they can easily digest and use. Using executive dashboards and leveraging the best data visualization tools helps them to deliver impactful insights to the heart of the business in no time at all. By deploying agile research, your customer or market interactions result in data that is timelier, gleaning more effective insight in addressing questions head-on and not many months after the event.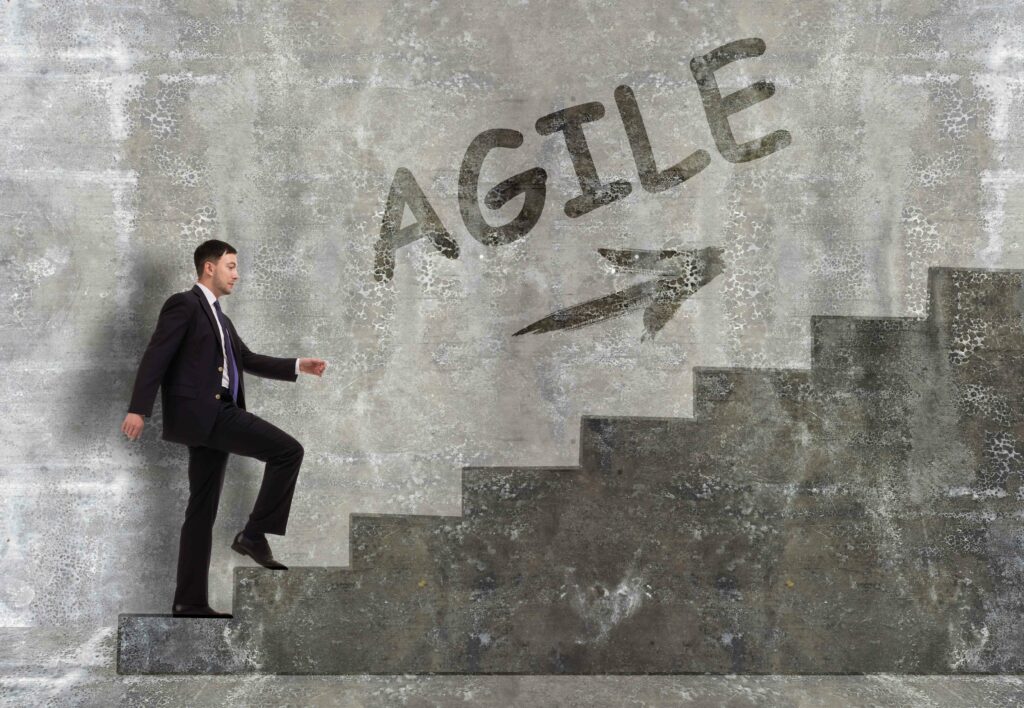 Caveat emptor: Everything Has a Time and a Place
We're not saying, 'Stop what you're doing and only embrace agility.' Businesses still rely on market researchers to deliver robust, detailed, and unbiased analysis and insight, and this takes time. However, researchers should recognize when to implement (or combine) alternative practices as a means to an end. 
For example, there may be some vital top-level insights that management can extract immediately in an agile manner using, say, dashboards displaying data in real-time for crucial KPIs. This can act as an interim measure while the rest of the data is thoroughly analyzed to be presented at a later date as part of an in-depth report. Or it may be that you conduct a short, agile survey as a forerunner to scope out essential details which inform a lengthier, more thorough investigation in a broader traditional survey.
And there are times when agile research is not the most appropriate method. Agile is not appropriate if you are trying to investigate a complex issue with a large number of inter-dependant questions. Here, you need a more in-depth and more considered approach that allows you to talk to a larger sample, slice, dice, and analyze the data in multiple ways. 
It's not all or nothing in most areas of business; Market Research is no exception. A balanced, intentional approach is required, and agile research is another tool in the researcher's toolbox. To learn more about how to carry out market research that delivers on all fronts, check out our infographic, How to Create Engaging Surveys.