How to become independent in your employee feedback
The benefits of collecting and acting on employee feedback are widely recognized: more engaged employees, who are more productive, less likely to leave and more motivated to deliver a high level of service to customers. Employees who are highly engaged are more likely to think of new, better, and more efficient ways of doing their jobs, even identifying opportunities for new products and service offerings. And these insights and intelligence generated by employee feedback can support more informed business decisions. 
But there are three key reasons many organizations fail to make the most of the employee feedback opportunity:
A lack of confidence in internal ability to manage employee feedback and engagement, relying too heavily on outside consultants.
Too heavily focused on the annual employee survey (AES) which eats up budget and time, leaving little resources for other initiatives.
Annual budget cycle pressures force a short-term, tactical view characterized by one-off projects rather than building a single, company-wide, integrated employee feedback platform and strategy to support longer term gains.
Interested in trying employee surveys in your organisation?
Try Questback 14 days for free.
Send surveys and analyse reports
Get started in 5 minutes
No credit card required
The three-year journey to foresight-driven employee feedback
While it might seem like a major challenge, it is possible to become independent in the way you manage and use the employee feedback process in as little as three years. Here's how: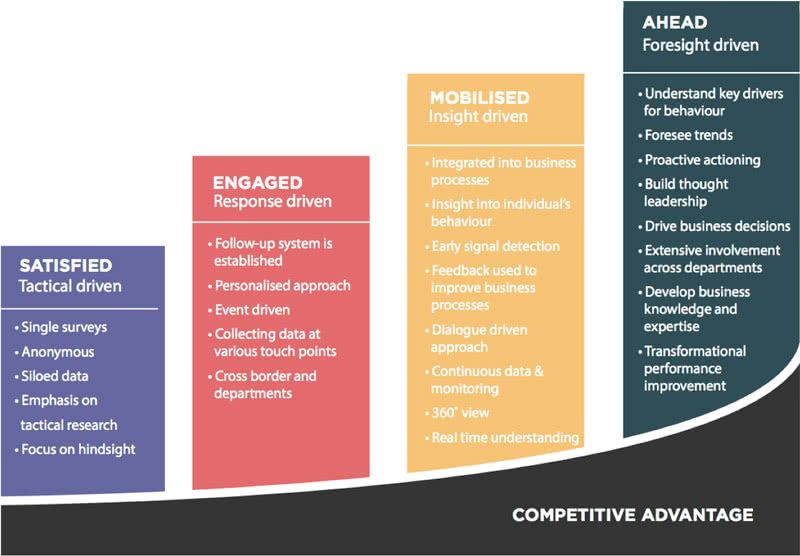 Year 1: Work with an expert partner
Partner with an experienced consultancy to create a central employee feedback platform and allow the partner to use the platform for running your annual survey. The employee feedback process for the company will be more efficient, driving time and cost savings – and you'll get the results faster. The same employee feedback software platform can also be used for other initiatives such as building communities, setting up event-based feedback and running surveys that are triggered at key points in the employee lifecycle.
Data and insights can be held in a single place from where it can be analyzed and shared across the organization, both via traditional reports and dashboards tailored to the needs of individual managers.
Year 2: Support knowledge and skills transfer around employee feedback
Support knowledge transfer from the partner to help your in-house team take on the skills to plan, control and maximize employee feedback on both a strategic and tactical level. You should then start to feel more confident about running your own feedback initiatives via the new platform, sharing responsibilities with your partner, who should be offering advice and support where required.
Year 3: Take control of all employee feedback initiatives
By year three, your organization should feel confident leading all employee feedback initiatives (including the annual survey) and take over control of the central platform, using it to run surveys of all types with only minimal support from the partner. A feedback center of excellence should now be planning and coordinating company-wide activity and advising on best practices to ensure maximum gains from employee feedback initiatives.
Why independence pays off
Once your organization is independent in employee feedback initiatives, you'll have complete control over your insight strategy with both the platform and skills to make long-term plans and the flexibility to respond to short-term opportunities.
By avoiding external consultancy fees, you will boost your feedback ROI. And you will enjoy better response rates and engagement through a wider range of employee feedback types (from communities and portals to always-on insights). With feedback now embedded into the fabric of the business, everyone will feel empowered to gather, use and benefit from employee feedback insights. 
Faster analysis and powerful dashboard-based reporting will help to slash the time between feedback collection and meaningful results, enabling speedier, better-informed business decisions. Employee feedback can now be more easily combined with customer data and business information from other sources via dashboards tailored to the needs of individual teams and managers.
While it might seem daunting, if you work the three-year plan step by step and with the right partner, it is possible to create a responsive, foresight-driven business that uses employee insight to drive success. Employee feedback is changing – make sure you're using it to power business success.