One day, a janitor was asked what his job was. "I'm helping to put a man on the moon," he proudly replied. While his daily tasks revolved around keeping the facilities safe and clean, the janitor recognized that his role was part of a greater, larger organizational purpose. The man that posed the question was President John F. Kennedy, the janitor worked at NASA.
Most companies don't have this kind of catalytic engagement from their employees. Employees are often overly encouraged to offer their "feedback," only for it to fall into a black hole. There's nothing engaging or inspiring about that.
"Being a good listener is absolutely critical to being a good leader; you have to listen to the people who are on the front line."

– Richard Branson
Research shows highly-engaged employees are over a third more productive than their less-engaged counterparts. The benefits are plenty, including greater productivity, increased profitability and up to double gross profit. Organizations have been measuring engagement for years. Yet, the majority have failed to improve productivity
Bridging the gap between productivity and engagement
What's the reason for this gap? Put simply, high levels of engagement mean nothing. Manchester United could have the most "engaged" team in the league, but without the right skills or an appreciation of how their individual position contributes to the team's gameplay strategy, their passion and engagement don't guarantee a win.
Similarly, high engagement doesn't automatically make staff more productive. They need a combination of aligned factors for that to happen. First, they need the knowledge, skills and resources to make a difference (we call this enablement). Then, they need to understand how what they do contributes to your overall business or department strategy, so they can execute accordingly (we call this alignment). Without enablement and alignment, high employee engagement is just wasted energy. You need to enable your people and ensure they are aligned for engagement to impact productivity. That is what productive engagement looks like.
Moving beyond engagement scores
Collecting the data is the first step—then you need to identify and fix any problems that your analysis uncovers. Don't just count disengaged staff, look at how you can turn them around and improve your bottom line. In our experience working with multinational brands all over the world, your people fall into one of four groups when it comes to productive engagement: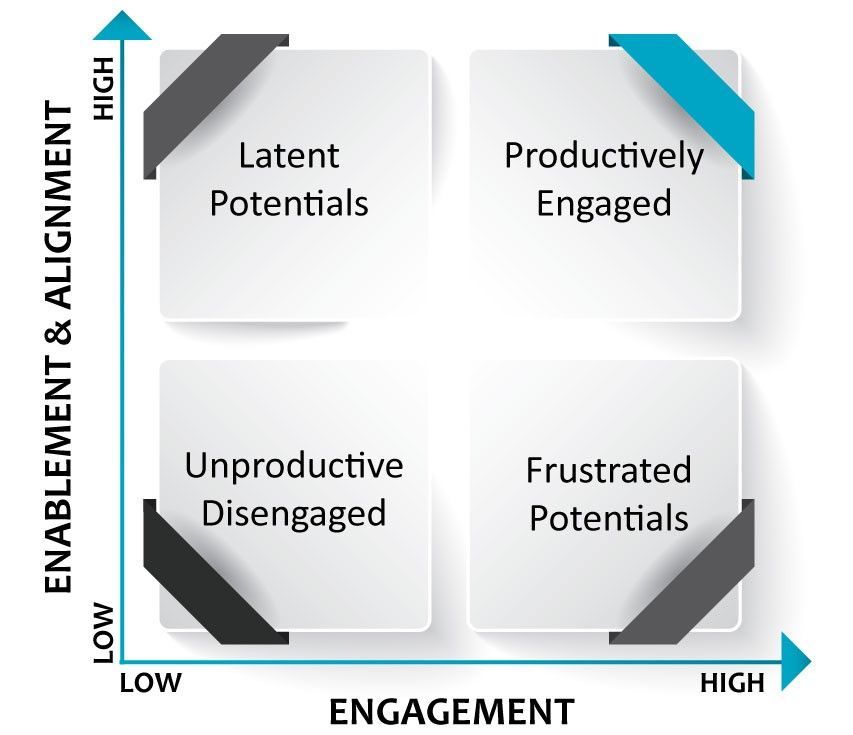 Group 1: The Productively Engaged
Clearly, this is where you want most of your workforce. Productively engaged employees have a clear view of their role, control and a sense of purpose. They have an effective and involving management style; their enthusiasm and energy mean that not only are they productive, but they positively impact those around them.
Tip: Ensure that productively engaged employees maintain, learn and share best practices. They can then motivate, engage and align their colleagues, moving the whole organization forward.
Group 2: The Latent Potentials
Scoring high on enablement and alignment, latent potentials suffer from low engagement. Their high potential is wasted, impacting their productivity. Typical causes of low engagement within this segment are a lack of recognition for their work, poor management and not having access to development opportunities. In turn, this can lead to a poor work/life balance, risking burnout and a loss of their skills to the business.
Tip: Moving this group so that they become productively engaged requires you to incentivize their involvement and recognize their contribution, boosting their engagement and therefore effectiveness.
Group 3: The Frustrated Potentials
Frustrated potentials are highly engaged but unable to contribute most effectively. Essentially, they are misaligned with your strategy. They have the enthusiasm but not the skills, knowledge, time, resources or tools to enable them to be productive and effective. Left too long, the frustration of this group will erode their commitment and cause them to either leave or drop into the disengaged quadrant.
Tip: Develop, equip and align them through training and by providing the resources they need to flourish.
Group 4: Unproductive Disengaged
The unproductive disengaged group of employees has both low alignment and low engagement—a toxic combination. Not only are they unproductive, they'll also negatively affect others, acting as a drain on energy and performance for all they interact with. This behavior is normally caused by a lack of purpose, a lack of control over their work or a sense of unfair treatment. There's a poor fit between them and their role, the team they are in and the overall company culture.
Tip: Turning this group around is not easy. It requires breaking the negative feedback loop, building engagement and creating alignment with company values and direction.
Keen to boost productivity, building on your existing employee engagement initiatives? Ask your employees:
Do you have the right tools for your job? (enablement)

Do you need additional training to be more effective? (enablement)

Do you know what the company strategy is? (alignment)

Do you understand how your role fits into achieving the company strategy? (alignment) 
If you don't know how your employees honestly answer those questions, you could be investing in engagement devoid of productivity results. To learn more about how productive engagement works in practice, watch this webinar by author and entrepreneur, Glenn Elliot, and Questback's, Scott Heyhoe: "Bridge the gap between productivity and engagement."
Read more about Employee Surveys.