Encouraging employees to give their best has always been critical to business performance – and company survival. Hypercompetition, digitalisation and global uncertainty all mean that the skills, knowledge and experience of talent are prerequisites for success. Companies that successfully manage and nurture talent are 1.7 times more innovative than their peers, and 1.8 times more likely to be able to successfully manage change. They achieve 26 percent higher revenue per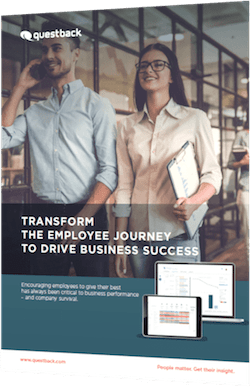 employee and 41 percent lower turnover among high performing employees.
Yet while talent has become ever more vital to success, successfully attracting and managing talent, and improving employee retention has never been more difficult. The balance of power has shifted – talent is more mobile, more demanding, less loyal and has more opportunities than ever before. How can organisations ensure they attract, retain and maximise the productivity of their people? As this brochure demonstrates, the answer is to treat talent more like customers and to take a journey-based approach across the employee lifecycle, listening to their feedback and acting on their insight. Only then will you reduce employee turnover, and win and retain the skills your business needs to flourish.
Try Questback
Questback is a leading Customer and Employee Experience solution that makes it easy to collect, analyse and take action on key stakeholder insights.