RACISM AND CULTURAL BIAS – CHANGING CORPORATIONS
The recent deaths of Black Americans—George Floyd, Breona Taylor, and Ahmaud Arbery—coupled with the COVID-19 pandemic and US Economic Crisis, have exposed serious defects in our country. Aspects like a lack of access to affordable healthcare, higher levels of unemployment, lower wages, the racial wealth gap, unequal access to quality education, have created barriers to the well-being of Black Americans.
Many corporations are making public statements addressing racism in the US, but REAL change comes from ACTION. Questback challenges you to take the next step. It is crucial that CEOs and business leaders start addressing the cultural bias that exists in all organizations. Today, there are only four African American CEO's in the fortune 500 so this effort MUST be led by their white counterparts. As JFK once said, "Racism is not a political issue this is a moral issue". Those executives that step up and drive these cultural initiatives could profit both socially and economically!
Human beings always have biases. Many of these operate outside of awareness. Organizations also have biases which exist in their cultures. Many of these are outside of awareness as well. Surprisingly, much of the organizational cultural bias is easier to access and easier to change than are individual biases. The corporate biases are easier to discover, but they are still a challenge to influence.
Socially it is crucial that CEOs and business leaders are taking forward action by focusing on their own companies and start addressing the cultural, usually somewhat unconscious, bias that exists in all organizations. @questback we have been working for years now and have reached out to executives to help their business identify and measure the unconscious biases that exist. Our solutions will provide data driven suggestions based on the data collected, how to deal with the issue, and truly create a nurturing and equal workplace. Unfortunately, our experience is that far too many of the CEOs are not willing to face the problems and deal with issues to create a better company.
According a recent Forbes article, less than 40% of companies are transparent about the gender and racial makeup of their workforce—which is an indication they have something to hide. Therefore, it is crucial to review the representation of Black employees and ensure the Black workers are represented across all levels of your business—AND that workers are receiving equal pay. After this review is complete, SHARE THE RESULTS.
Questback grew successfully in the experience management business using quality approaches with a unique commitment to service – and to transformation. Our CEO Frank Møllerop wasn't satisfied with the results. We saw greater possibilities in communication than the possibilities of accepted industry standards. What we saw as missing was new methods of engagement with all who used the results from the data. We believe that data collection, done right, can transform an organization and all who work in it!
Our new approach engages people in continuous thinking and idea generation; which results in effective communication and engagement – based in being data & action driven.
The turbulent times we are in cannot be transformed by a public outcry, not even if from leaders of organizations and politics—not even if honestly felt. Certainly not without action. Organizational leaders need to put their ideas into action supported from the top down. We all are familiar with the saying, "people don't do as you say, they do as you do". This not a "one off" but a way to create an inclusive workplace with measurable standards.
#BlackLivesMatter #UnconsciousBias #CulturalTransformation #WorkforceInnovation #Questback
WANT TO BE BETTER AT CREATING AN INCLUSIVE WORKPLACE?
Learn more about Questback's solutions and how they can help you develop a truly high performing culture
QUESTBACK'S CULTUREQUEST GIVES YOU
Simple diagnostic:

A powerful, practical diagnostic measurement and management tool

Organizational oversight:

Understand where you are now, and where you need to be to achieve your strategic business objectives

Management and leadership insight:

Identify the specific behaviors that will help you achieve and maintain your desired cultural change

Control and autonomy:

Eliminate the need for expensive consultants; Questback's CultureQuest requires no accreditation and minimal training to administer and utilize
MEASURE AND MANAGE YOUR CULTURE
Read our solution sheet and learn how Questback's CultureQuest can help you develop the culture you need to ensure business success
REACH YOUR COMPANY'S FULL POTENTIAL
INCREASE INNOVATION & AGILITY Commitment to diversity fosters creativity and collaboration
MAKE BETTER BUSINESS DECISION Teams with a broad mix of experiences, perspectives and opinions make more considered and robust business decisions
EXCEED FINANCIAL TARGETS Inclusive cultures are 2x as likely to meet or exceed their financial targets
INCLUSIVE CULTURE IS NOT ONLY ABOUT ETHNICITY, IT IS ALSO ABOUT GENDER
Read our in-depth solution sheet to learn how Questback's CultureQuest can help address this business imperative now
As the world moves from capitalism into the era of talentism, competitiveness on a national and on a business level will be decided more than ever before by the innovative capacity of a country or a company. In this new context, the integration of women into the talent pool becomes a must.

World Economic Forum
You are where you are today because you stand on somebody's shoulders. And wherever you are heading, you cannot get there by yourself. If you stand on the shoulders of others, you have a reciprocal responsibility to live your life so that others may stand on your shoulders. It's the quid pro quo of life. We exist temporarily through what we take, but we live forever through what we give.

Vernon Jordan
QUESTBACK'S CULTUREQUEST PARITY GIVES YOU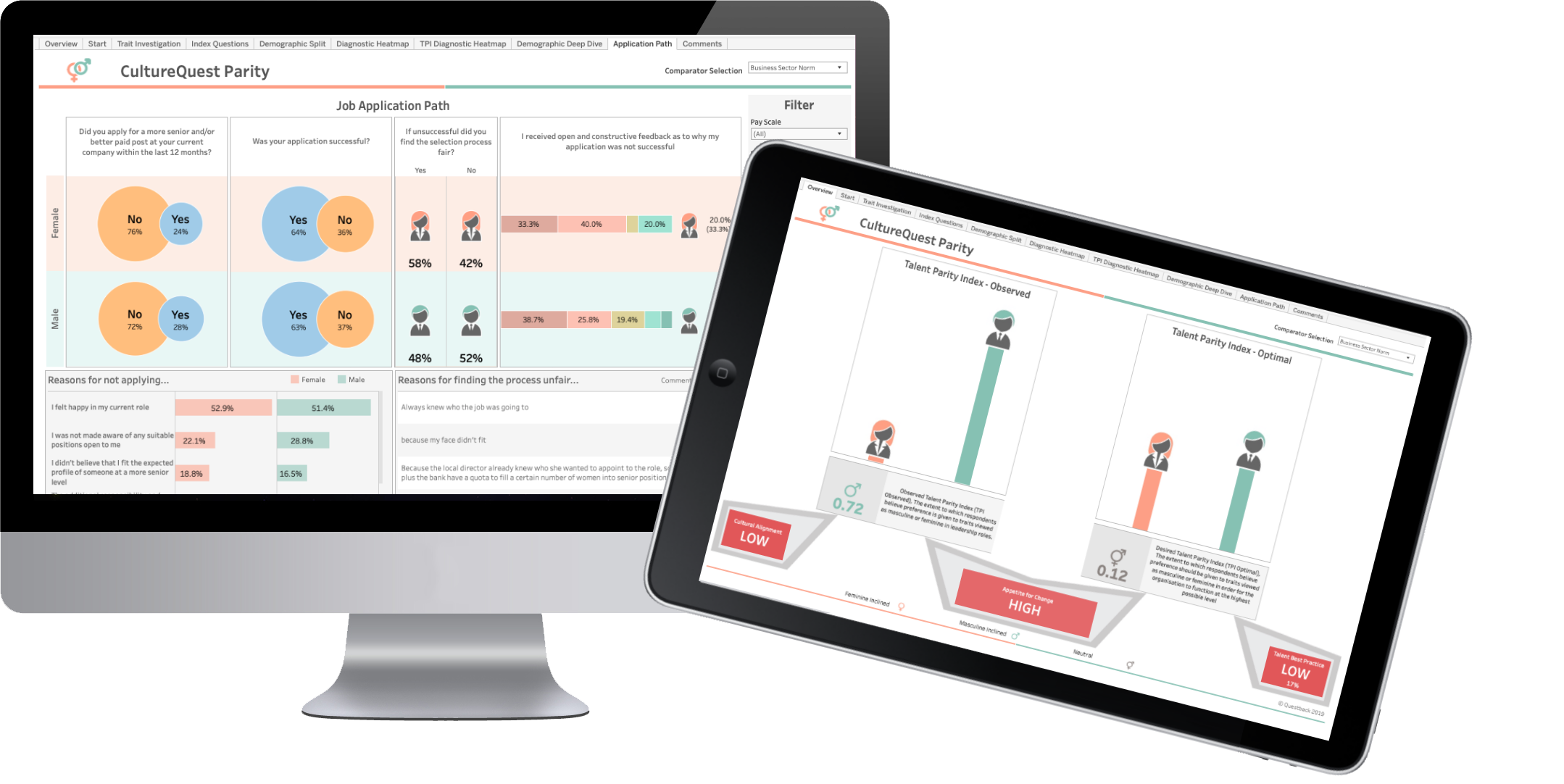 Increased awareness:

Understand your gender pay gap, and uncover the cultural and behavioral biases and strengths within your organization

Actionable insights:

Receive the actionable strategic insights you need to bridge your gender pay gap

Impact analysis:

Measure the impact of changes over time, using early indicators of progress or challenges to course correct as needed

Flexibility:

Benefit from a solution that can evolve with your organization, leveraging our highly configurable experience management platform. Behaviors, beliefs and core values. Make those attitudes adaptable and agile to drive a high-performance culture.
Read More
Webinars
What are the 4 myths holding back culture change in financial services? Read our guide to find out how you can successfully overcome them.
Read More
Guides
Read More
Ladattavat oppaat