At a time of increased demand and shrinking budgets the NHS faces significant challenges. To deliver the combination of high quality healthcare and greater efficiency requires profound cultural change, moving away from a top down, silo-based departmental approach within Trusts, and becoming more integrated and interconnected.
The benefits of better communication, improved dialogue and engagement are well documented and widely recognised. Every NHS organisation can quickly make a compelling business case if they take this into account. Higher staff retention, lower absenteeism, improved well-being, increased productivity, better patient safety, greater staff and patient satisfaction are just some of the potential prizes on offer. Questback's NHS Community platform has been developed to address this.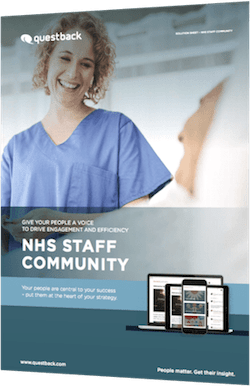 Try Questback
Questback is a leading Customer and Employee Experience solution that makes it easy to collect, analyse and take action on key stakeholder insights.