In the private sector, the relationship between organisations and employees today has radically changed – with the balance of power shifting fundamentally to favour skilled staff. Employees now have different expectations – they are increasingly mobile, less loyal and more demanding of their employers. Barriers to switching jobs are low, putting them firmly in control. 
To address at least those factors within their control, Trusts have to transform the employee experience and take a journeybased approach to listening and engaging with staff from recruitment right through to when they leave. Now is the time to start treating your staff more like your customers and patients, optimising the experience across their lifecycle.
Read this solution sheet to learn how you can better understand, manage and optimise the employee journey.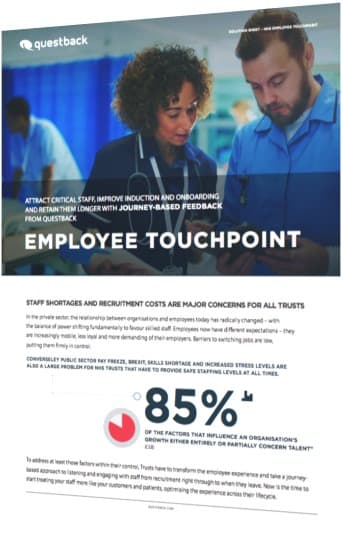 Try Questback
Questback is a leading Customer and Employee Experience solution that makes it easy to collect, analyse and take action on key stakeholder insights.