SUPPORT WHISTLEBLOWING TO REDUCE RISK AND PROTECT YOUR ORGANISATION
Allegations of corporate misconduct raised by whistleblowers externally cause major damage to corporate reputation, hit share prices and impact the bottom line. From financial services to the NHS, organisations now understand that they need to create a two way dialogue with their people, that encourages whistleblowers to speak up and share their concerns internally, enabling them to use their insights to reduce risk, meet regulatory requirements and protect their performance and reputation.
Whistleblower initiatives
can uncover risks that impact the entire organisation
Financial, Legal & Regulatory Risks Fraud, Financial Misconduct, Insider Trading, Misselling, Unethical behaviour
Management & Personnel Risks Bullying, Harassment, Bribery, Intimidation, Industrial Espionage
Operational & Supply chain Risks Environmental, Health, Safety, Child Labour, Unsafe Practices
1/3 OF EMPLOYEES OBSERVE MISCONDUCT
Uncover insight, take action. Encouraging whistleblowing is the first step to mitigating risk and improving performance.
C-suite support for whistleblower initiatives is being recognised as a key element of an effective enterprise-wide compliance programme...

Deloitte, WSJ Risk & Compliance Journal
QUESTBACK'S WHISTLEBLOWER SOLUTION
Uncover insight, take action. Protect your organisation.
Identify and reduce risk, increase staff engagement and protect your reputation by supporting whistleblowing across your organisation. Questback's powerful Whistleblower solution makes it easy for staff to speak up – and simple for managers to act on this insight to address issues quickly and comprehensively.
Questback's Whistleblower Solution:
Reduces risk by supporting staff and encouraging them to speak up
Delivers a straightforward, anonymous solution for employees to voice concerns
Enables compliance with whistleblowing regulations, whatever your industry
Provides proactive insight to drive better business performance
Transparent and accessible, Questback's Whistleblower Solution helps pinpoint wrongdoing and build a high performance culture of openness and best practice.
Recent high-profile failures of corporate integrity have highlighted the need to prevent, detect and respond to the types of breakdown in trust and compliance that can have devastating consequences for businesses and the individuals within them.

Ernst&Young
Whistleblower FEATURES
Simple to use, encrypted online solution, accessible from any device 24/7
Guaranteed anonymity and easy to customise to your needs and processes
Complete, auditable solution with real-time dashboards and alerts to ensure consistent action and results
Encrypted Online Portal
Secure, fully encrypted portal that enables staff to speak up anonymously at any time, from any device.
Automated Alerts & Reporting
Real-time alerts, notifications and reports automatically generated, tailored to your governance and whistleblowing policies.
Dynamic Dashboards
Easy to use real-time reporting for managers, HR, investors and other stakeholders.
Audit-Ready Case Management
Manage any cases and communicate with relevant parties from investigation through corrective action, all audit-ready and reportable.
Creating a climate and process to facilitate internal problem-raising will help companies spot the next LIBOR rate rigging scandal, or faulty car emissions scheme, or sales incentives problem before it is too late.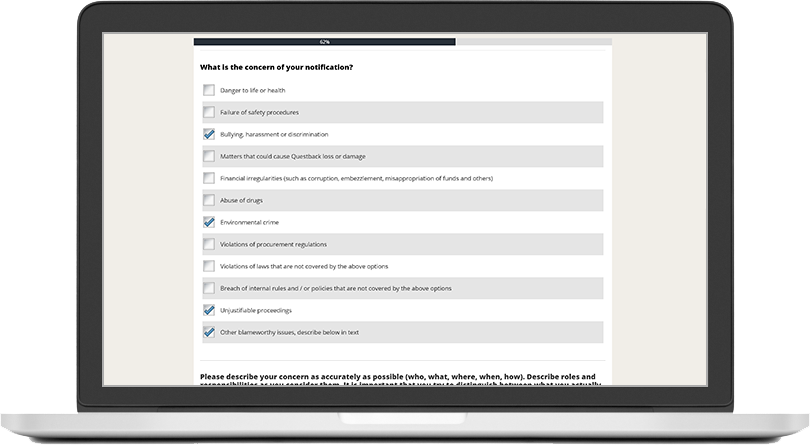 72 percent of investors
believe metrics on non-financial risk are vital.
Successfully manage ESG risk across your operations.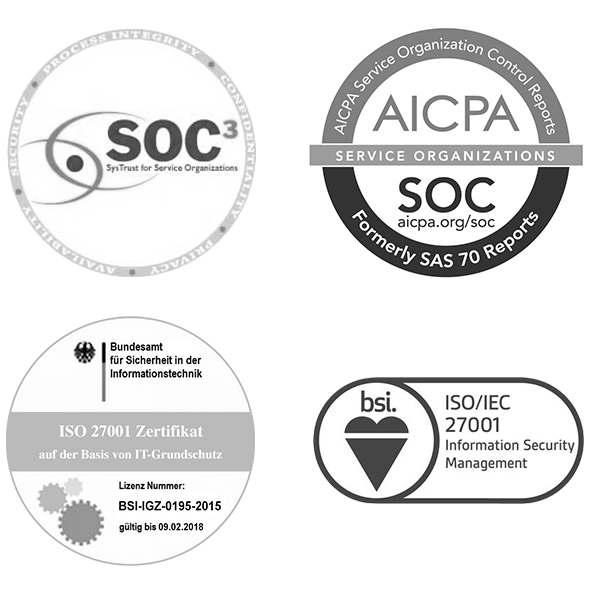 Who you trust matters
Whistleblowing can have serious consequences for organisations including reputational damage and financial and regulatory impact. From front-page scandals to catastrophic environmental spills, ensure your whistleblowing programmes are built on the right solution. Trust only the best.
Industry-leading, fully encrypted web-based solutions
GDPR-compliant data protection and privacy standards and practices
SOC3 Sys Trust seal of assurance for independently-verified standards compliance
ISO/IEC 27001 certified for information security management system (ISMS)