The Employee Journey Matters
From recruitment and onboarding onto exit, employees go through a journey at your organisation. Getting the best from them at each stage means providing them with the best possible experience in order to attract, retain and ramp-up their productivity. Listening to your people across the employee life cycle is therefore central to driving growth, and that's where our employee life cycle management software can help you.

APPEAL TO THE BEST TALENT
Attracting the right people is vital – but competition is fierce. Listen to your candidates and use their feedback to improve your recruitment processes, avoid dropouts and make the right hiring decisions.

SHORTEN TIME TO PRODUCTIVITY
New joiners are just 50% productive after 3 months. Make them effective, faster by listening to their feedback and intervening to ramp-up their effectiveness.

KEEP YOUR TALENT FOR THE LONG-TERM
1 in 4 hires leave in year one. Understand the issues that are causing employees to go by using their feedback to build an environment that retains them for the long-term.

LISTEN AT EMPLOYEE EXIT
Understanding why staff leave lets you improve how you operate, changing processes to ensure other talent doesn't follow them out of the door.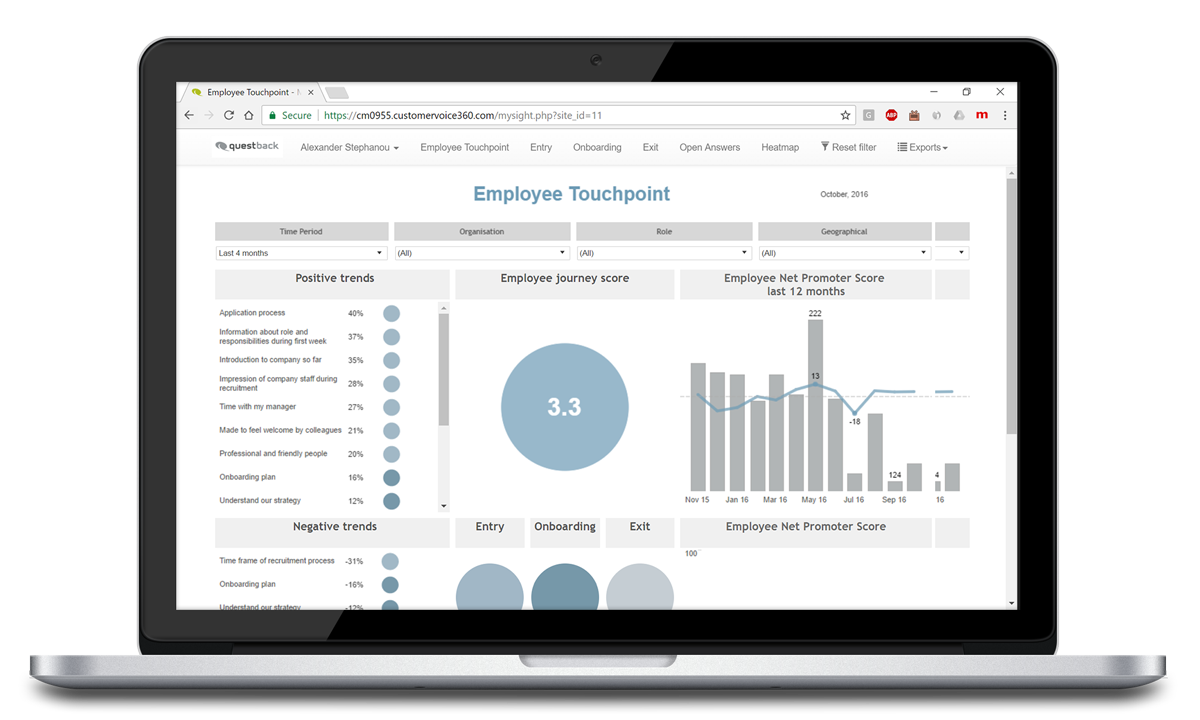 Do you know what your employees are thinking across their journey, and how their experience and fit has changed throughout the lifecycle?
Questback's Employee Touchpoint employee lifecycle management software makes it easy to capture feedback, analyse fit and engagement, and make real-time interventions and adapt processes to maximise productivity.
Contact Us
Built for The Journey
Managing employee lifecycles involves taking the same journey based approach with your staff as you do with your customers. Our software makes it easy for you to listen directly to your people, understand how they are feeling and use this insight to attract, ramp-up and retain talent.
Employee Touchpoint contains multiple modules:
Recruitment & Entry – collects qualitative and quantitative feedback across the hiring and joining process
Onboarding – triggered as the onboarding process is completed it measures engagement and fit with the organisation
Exit – understand the real reasons staff leave, and use this insight to better retain employees going forward
Automatically measure fit, engagement and Employee Net Promoter Score across the journey, through Questback's employee lifecycle management software.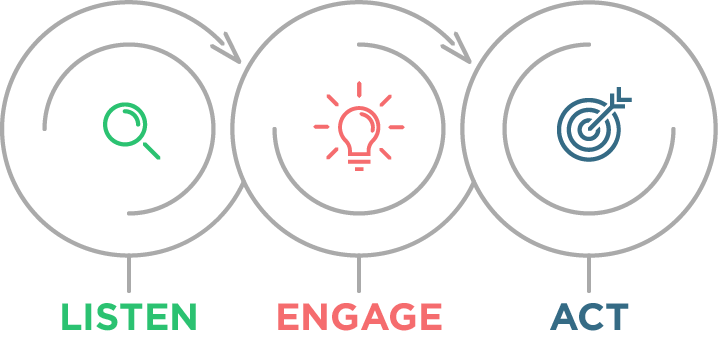 Built for Results
Employee Touchpoint turns feedback into actionable insight. Real-time analytical dashboards, customised for each manager's roles and responsibilities, enable you to quickly spot issues and trends and make faster, more effective decisions. Our solutions close the loop from feedback to insight to action. Understanding the employee journey is crucial to reducing staff turnover, increasing productivity and making better-informed decisions.
Our employee lifecycle management software closes the loop between feedback, insight and action. Understanding the employee journey is crucial to attracting top talent, driving productivity and reducing staff turnover.
Contact us to Learn More