Engagement Matters
Employee engagement is central to business success. At Questback we know that to build and retain motivated, talented staff, you need to start with engagement:
Engaged employees deliver more, and stay with you for longer
Engaged employees are more dynamic, going beyond their job responsibilities, while contributing more ideas and innovation
Employee engagement is vital to stronger topline growth. Engaged staff drive greater sales and act as ambassadors for your brand
Traditional employee engagement tools, such as the annual survey-based approach are simply not fast enough for today's business environment.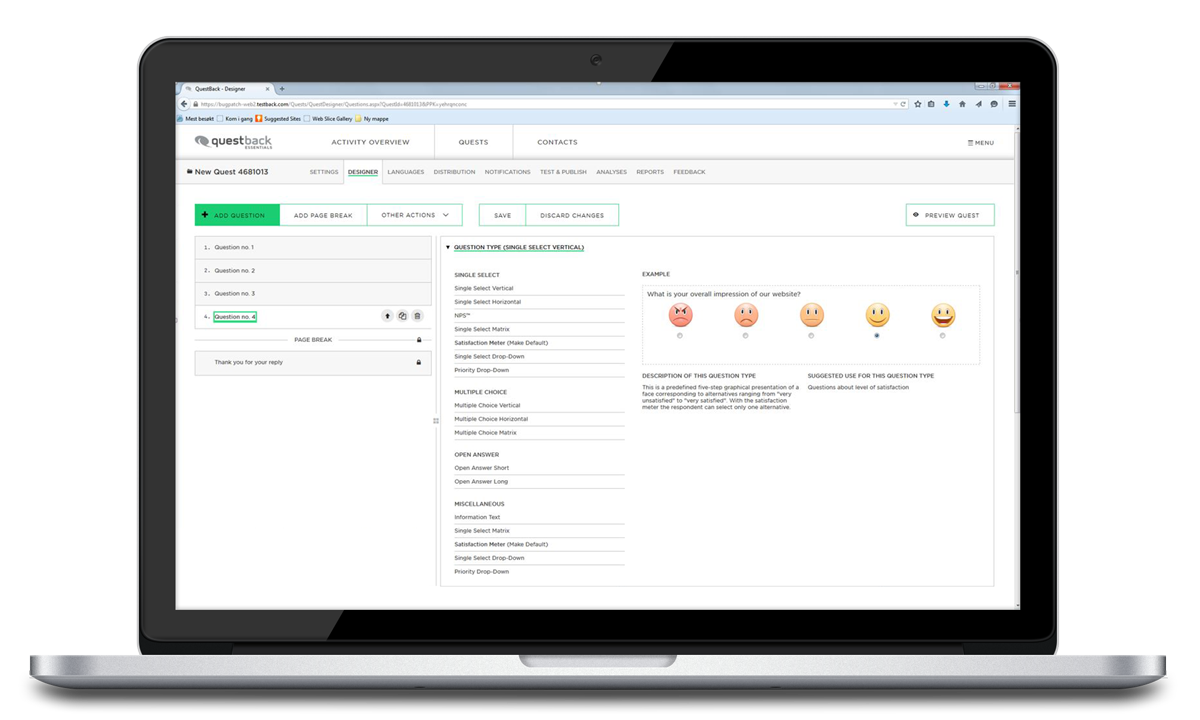 So how can you capture the benefits of employee feedback for your organisation?
Higher engagement is created through a dialogue, built on listening, and taking action in response to employee feedback.
However, anyone that has run a feedback programme or even a single employee satisfaction survey knows this isn't straightforward. Questback's employee engagement survey software makes it easy to collect and act on employee feedback, driving improvements across your business.
Built for Engagement
Questback's employee engagement platform has been created to drive engagement at all levels and to close the loop between insight and action.
As well as scheduled surveys, our employee engagement tools let people share their views when they want, from anywhere, on any device with always-on feedback.
Managers can request feedback on-demand or via regular pulse surveys that monitor progress and trends.
Organisations can automatically collect process based feedback, capturing insight around specific events and milestones such as onboarding, training or promotion.
Questback Engagement Features
Built for Results
Simply collecting employee feedback does not improve performance. Questback's employee engagement solution closes the gap between listening and results. Most organisations face similar problems when it comes to employee surveys:
The collection process is too long
Employee engagement tools are difficult to use
Platforms can only run scheduled surveys
It is hard to collect feedback in multiple languages
Analytics and reporting tools are complex and inadequate
Tools for analysis are not connected to the collection system
There is no closed loop between feedback, insight and planning and tracking actions
Do you have an staff engagement platform that lets you listen and act across your organisation?
People matter.
People matter. They either accelerate or block organisational success.

Simple
Our employee engagement solution is simple to use and easy to customise to your specific needs.

Scalable
Our employee engagement tools scale to meet the requirements of complex, large and international enterprises.
Request A Demo

Find out how RSA reduced costs while increasing engagement and driving significant cultural change.
Read More
Case Study