Customer Experience Matters
Customer experience is at the heart of company success. Yet the majority of businesses find it difficult to understand how customers actually view their products and services. Why? Often it is because they are looking solely at basic satisfaction metrics, instead of drilling deeper into real-life customer experiences. This is where customer experience software can really make a difference.

Experience is not Transactional
Customers may keep buying from you, but still not be loyal. A great customer experience that covers every interaction drives real loyalty, going beyond hygiene factors such as cost and convenience.

Experience is not Satisfaction
Customer expectations go beyond simply being satisfied when they interact with you. A great customer experience must therefore consider not just individual touchpoints, but the cumulative impact of the overall journey.
Be truly customer-centric with Questback Customer Experience Software
Questback's Customer Experience software makes it simple to collect feedback across the customer journey. Benefit from a unified view through an easy to use customer experience platform that covers every survey type. Questback's customer experience management software closes the gaps between feedback, insight and action, transforming the customer experience.
140% more spending by customers with the best experiences

Harvard Business Review
Go Beyond the Metrics
To create a better customer experience and deliver a personalised approach you need to listen to customers and act on an individual level. Look beyond metrics such as Net Promoter Score (NPS) and CSAT to engage with your customers and their particular concerns and views.
Listening to feedback with Questback Customer Experience software helps spot issues at key touchpoints before you are aware of them, providing innovative ideas for improvement.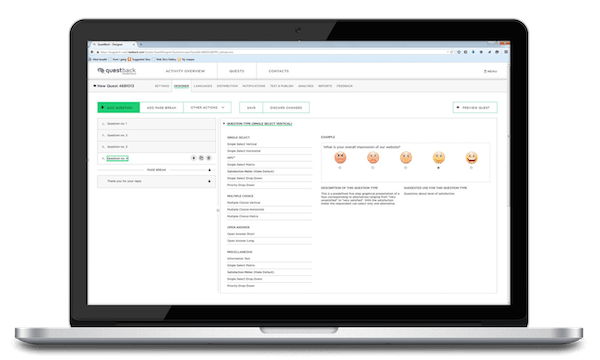 Going Beyond the Touchpoint Matters
When it comes to feedback, focusing on specific touchpoints makes it difficult to see the wider picture. Customers can be happy with the experience at individual touchpoints yet still be dissatisfied overall. Questback's customer experience software allows you to take a comprehensive approach to customer feedback, built on a unified view of all interactions.
Gather process-driven feedback straight after key touchpoints and combine it with insight from employees and key business metrics on our customer experience management platform. This makes it simpler to highlight trends and drill down to the actual causes of issues.
Built for Results
You need to turn insights into action if you want to benefit from the true value of feedback. The real-time dashboards in Questback's customer experience platform allow businesses to monitor every improvement project along with their overall impact on the customer experience. It delivers a historical view of all feedback, meaning businesses can quickly see the link between changes and results.
A superior customer experience is central to accelerating growth and increasing customer loyalty. Questback lets you listen to your customers, analyse their feedback and transform insight into meaningful action.