Build the leaders of the future
Introducing the next generation of 360 feedback tools
NURTURE ALL LEADERSExtend 360-feedback to everyone. Develop the key leadership behaviors and competencies that matter to your organization
MAKE HR THE HERODeliver the tools to support growth and development. Free up time for HR to focus on strategic initiatives
SUPPORT MODERN ORGANIZATIONSEmpower your leaders to get feedback from the people they work with, not just the people who report to them
STRONG LEADERS DRIVE TRANSFORMATION
Read our in-depth solution sheet to learn how Questback Leadership 360 can benefit your business and transform your 360-feedback effectiveness.
The good news is that inspirational leadership can be taught, and it can be learned. In fact, all of us possess some of the qualities of inspiring leaders. The secret is to help leaders build upon the strengths they currently have and shore up any qualities that may compromise their ability to inspire. This starts with 360-degree feedback to assess each leader's current ability to inspire.

Bain & Company
Democratize leadership development
Available for everyone:

Deliver the solution to existing or aspiring leaders in your business in a few clicks

Actionable insights:

Real-time dashboards and PDF reports highlight key leadership development areas, while recommended actions and collaboration tools empower leaders to work with their colleagues towards meaningful improvement

Control and visibility:

Centralised tools for HR allow you to keep control over leadership development and priorities. Executive dashboads let you see the bigger picture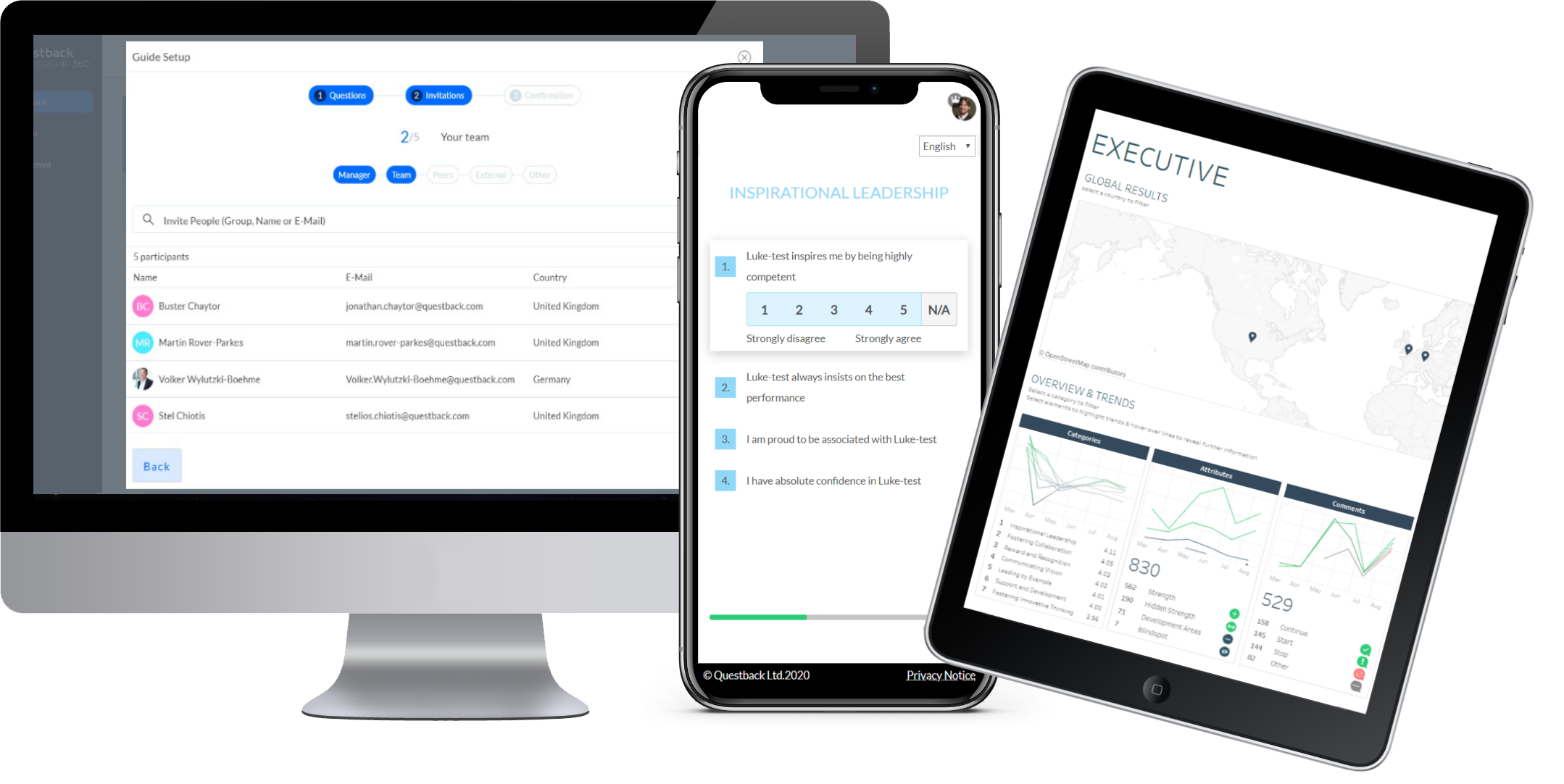 CHOOSE THE PACKAGE THAT SUITS YOUR ORGANIZATION:
| | | |
| --- | --- | --- |
| | BASIC | ENTERPRISE |
| Self-service portal | | |
| Multi-language support | | |
| Multi-rater support – including external raters | | |
| Recommendations & collaborative action management | | |
| Comprehensive dashboards | | |
| Downloadable reports | | |
| Personalization with own branding & model | | |
| Integration into own business systems & processes | | |
| Automated and configurable rater-group selection | | |
| Executive dashboards for central HR | | |
| Survey support for employees without email | | |
| HR Monitoring module | | |
| Crowd-source ideation guide | | |
| Access to Questback Leadership Experts | | |
BASIC EDITION
Experience the power of 360 feedback for your leaders today, with a free personal trial of the Basic edition. Everything you need to get started!
Try it now for free
ENTERPRISE EDITION
Basic edition not enough? Get comprehensive results tailored to your business with our Enterprise edition. Register for a demo now!
Request a demo
In this blog, Matthias Frye, our Regional VP at Questback Central Europe, shares ten practical leadership 'hacks' based on personal experience during his time at Questback.
Read More
blog
This is the second in our series of webinars exploring the topic of Leadership. Watch now.
Read More
webinar
Why tomorrow's leaders need feedback today ✓ Plain sailing with an agile leadership feedback process ✓ Infographic ➨ Free Download
Read More
?page_id=3167