Why culture eats strategy for breakfast
Organizational culture is increasingly recognised as making the difference between business success and failure. The benefits of developing a diverse and inclusive culture are well documented; from increased productivity and innovation, through to improved employee and customer satisfaction. Deloitte's simple equation says it all :
Diversity + inclusion = better business outcomes
Unfortunately, many programs aimed at changing culture are simply not successful. Questback's Culture, Diversity & Inclusion solutions help businesses bridge the gap between implementation and meaningful impact, allowing you to actively track and fine-tune your strategic culture initiatives.
REACH YOUR COMPANY'S FULL POTENTIAL
INCREASE INNOVATION & AGILITY Commitment to diversity fosters creativity and collaboration
MAKE BETTER BUSINESS DECISION Teams with a broad mix of experiences, perspectives and opinions make more considered and robust business decisions
EXCEED FINANCIAL TARGETS Inclusive cultures are 2x as likely to meet or exceed their financial targets
CULTURE HOLDS THE KEY TO CLOSING THE GENDER PAY GAP
Read our in-depth solution sheet to learn how Questback's CultureQuest can help you address this business critical imperative now
As the world moves from capitalism into the era of talentism, competitiveness on a national and on a business level will be decided more than ever before by the innovative capacity of a country or a company. In this new context, the integration of women into the talent pool becomes a must.

World Economic Forum
QUESTBACK'S CULTUREQUEST PARITY GIVES YOU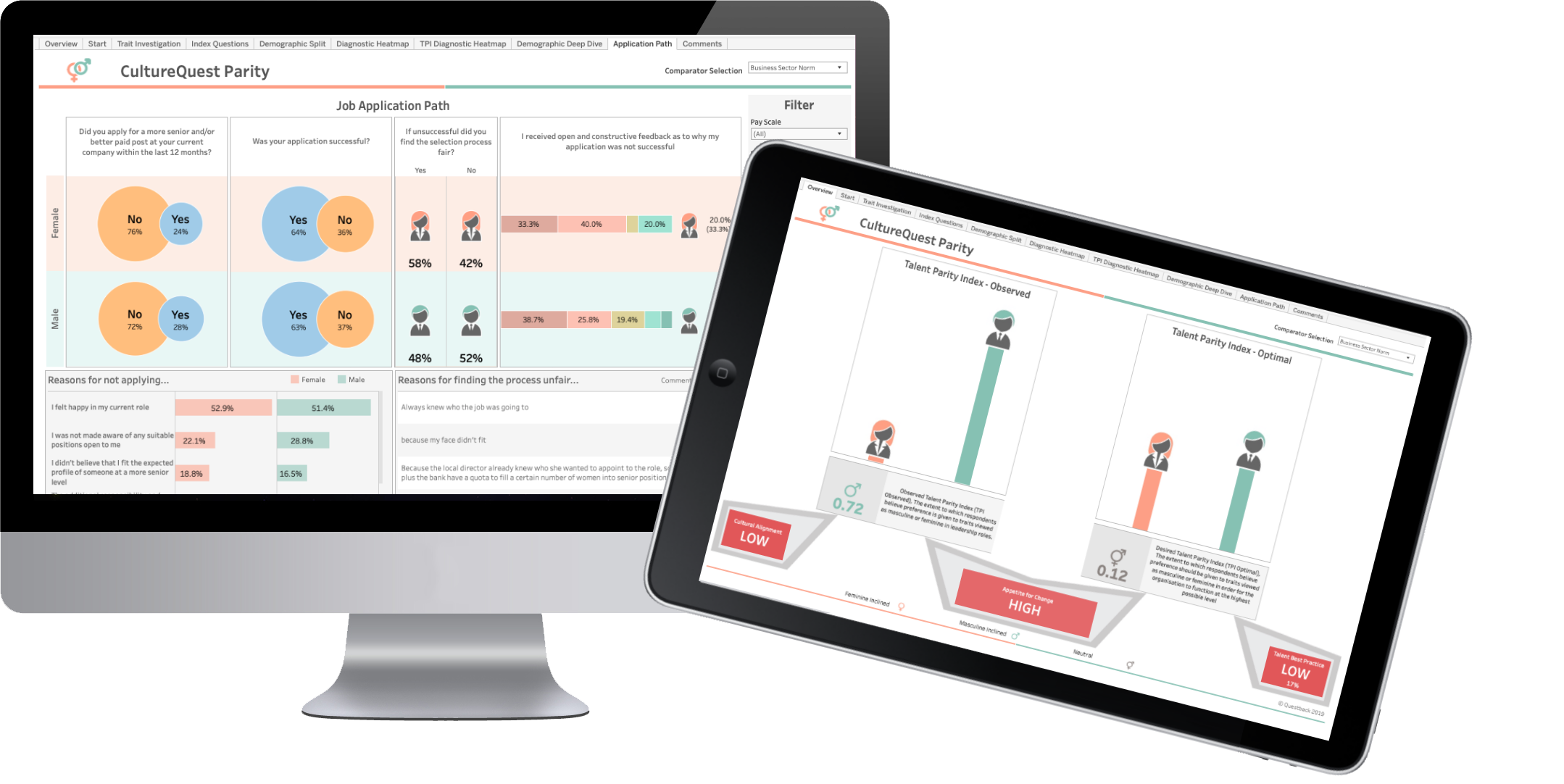 Increased awareness:

Understand your gender pay gap, and uncover the cultural and behavioral biases and strengths within your organization

Actionable insights:

Receive the actionable strategic insights you need to bridge your gender pay gap

Impact analysis:

Measure the impact of changes over time, using early indicators of progress or challenges to course correct as needed

Flexibility:

Benefit from a solution that can evolve with your organization, leveraging our highly configurable experience management platform.
WANT TO BE BETTER POSITIONED TO ACHIEVE YOUR STRATEGIC BUSINESS OUTCOMES?
Learn more about Questback's solutions and how they can help you develop a truly high performing culture
QUESTBACK'S CULTUREQUEST GIVES YOU
Simple diagnostic:

A powerful, practical diagnostic measurement and management tool

Organizational oversight:

Understand where you are now, and where you need to be to achieve your strategic business objectives

Management and leadership insight:

Identify the specific behaviors that will help you achieve and maintain your desired cultural change

Control and autonomy:

Eliminate the need for expensive consultants; Questback's CultureQuest requires no accreditation and minimal training to administer and utilize
MEASURE AND MANAGE YOUR CULTURE
Read our solution sheet and learn how Questback's CultureQuest can help you develop the culture you need to ensure business success

Behaviors, beliefs and core values. Make those attitudes adaptable and agile to drive a high-performance culture.
Read More
Webinar

Read More
White Paper

What are the 4 myths holding back culture change in financial services? Read our guide to find out how you can successfully overcome them.
Read More
Brochure