Blog

|

Workplace Disruption – What the Gig Economy Means For Employee Experience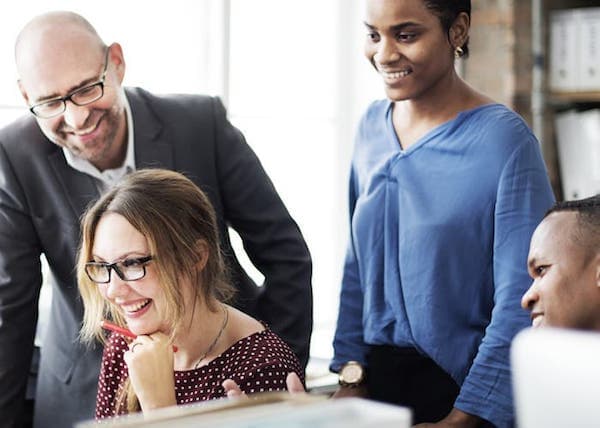 The workforce is currently undergoing a radical transformation, with increasing numbers of people switching from permanent positions within a single company to become part of the gig economy. This trend means that many previously office-based roles are being carried out not by traditional employees, but by digitally enabled third party contributors who work flexibly and at their own convenience, many of whom may only visit their 'office' occasionally.
While this is a new trend it mirrors some of the issues that organisations with geographically spread or shift-based workforces, such as retailers, already face, where staff may never or very infrequently come into contact with all of their colleagues, and perhaps in extreme examples, not consider their fellow workers to be 'colleagues' at all.
By breaking down office-based company hierarchies and increasing the options for workers, the gig economy means that organisations will need to work harder to attract and retain talent. Engaging and motivating staff will be vital, but given that people will be working to their own schedules, often without being in the same office as their manager or other colleagues, this will be extremely challenging.
HR teams therefore need to respond, focusing on these three key areas to ensure they attract, motivate and engage key talent:
1. Build a brand that attracts gig economy workers
Employees today have unparalleled choice when it comes to deciding where to work, while social media and online recruitment sites mean that the barriers to switching have never been lower. To compete, organisations must create a strong employer brand that attracts the right candidates and ensures they stay, whether they are full-time employees or freelance members of the gig economy. If 'giggers' can check in and out as they please, then the company need to be the magnet that attracts the best back, time and time again.
The employer brand needs to focus on its values and working style, ensuring that people understand what it stands for – just like a consumer brand. Obviously this public face must be based on reality so that the employees you attract are a good fit with your cultural values – otherwise they are likely to quickly leave while rating you poorly on social media. These brand values must run through everything you do – from the initial candidate experience to recruitment and onboarding and into day-to-day operations.
2. Give everyone a voice, all the time
Traditionally, employee engagement has been measured through a single, annual survey. The rise of the gig economy and a less permanent, more distributed and mobile workforce means that this cannot capture meaningful feedback quickly enough or in sufficient depth. 'Giggers' have a material impact on your business and your customers, yet your core method of capturing the voice of your people is likely to miss them entirely! Companies will therefore need to supplement traditional calendar-driven feedback with more flexible, always-on approaches that let staff provide their views when they want, through their channels and devices of choice, rather than forcing them to wait for the annual survey.
Additionally, companies need to let staff share their feedback in a more qualitative way, going beyond the set list of questions that is typical of the annual survey. This lets staff praise things that they love, and raise the issues that are important to them, helping you to focus on what you're doing well, and improve what you're not, as effectively as possible. There are further bottom line benefits too – always-on feedback helps unlock insights and ideas that can be used to improve organisational effectiveness. This is especially true of your 'giggers', who have a wide range of recent, unjaded experiences that they can share – if it is made easy and quick for them to do so.
3. Encourage everyone to share ideas and to innovate
The danger of employees working autonomously and remotely is that it proves difficult to create and maintain a shared work experience and culture. This is especially true if some of them are doing work for other companies too. By embracing and providing the right collaborative tools, organisations can overcome some of these barriers. For example, by creating an online platform where people can share ideas, experiences and contribute solutions to work related challenges, from wherever they are, they can bring employees and virtual teams together – even if they are never normally in the same office at the same time.
Providing this type of platform also guards against the risk of workers creating their own space on public forums, such as a Facebook or LinkedIn group. If employees switch to these channels valuable insight will be lost– employees will be speaking, but you won't be able to hear what they are saying or capture and act on their feedback. This can even have a negative impact: if you're not listening, then discussions and opinions won't receive appropriate action from the business. And, as they fail to drive change, they will always tend to foster a culture of negativity. Seeing this, your flexible workers probably won't have you at the top of their list for their next gig.
The world of work is changing fast, and talent is increasingly embracing the gig economy due to its flexibility and variety. HR therefore needs to act now to transform the employee experience so that organisations can attract and retain talent, understand and motivate staff, gain from their ideas, and create a positive shared culture that benefits everyone involved.
Watch the full crosstalk to learn more about what the gig economy means for employee experience.
Want to see how Questback can work for your business?