Blog

|

8 Rules for Starting & Maintaining NHS Staff Engagement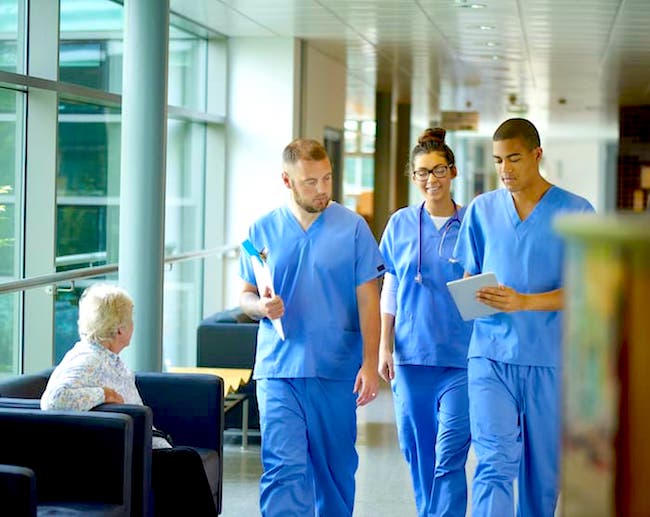 At a time of increasing pressures on the NHS, keeping all staff motivated and engaged is essential for Trusts if they are to meet their objectives and deliver a high level of patient care. A vital aspect of this is creating an online dialogue with staff and using their insights to drive change and improvements. But achieving a continuous, candid, two-way communication that promotes staff engagement in the NHS is a huge challenge. Most Trusts, for instance, typically have a large, shift-based workforce that is spread across many locations, numerous specialist teams and departments with staff often working in high pressure environments.
That is why an increasing number of organisations in the NHS, such as Northern Devon Healthcare NHS Trust (NDHT), are turning to technology, especially online communities, to enable a more frequent, deeper conversation with their staff. An online community such as this makes it easier for staff to share feedback, interact, learn from and support their peers. NHDT's online community, called Staff Voice, allows employees to participate in surveys, quick polls and discussions as well as to submit ideas for changes and improvements. They can login and take part wherever they are, from whatever device they are using, fitting in with their work and private lives.
But getting people to participate in a new initiative such as an online community is never going to happen automatically. Sending out login details is rarely enough. How do you start and maintain the ongoing dialogue you are looking for? The truth is, the digital world is not all that different to the physical one, and many of the same techniques apply. Here are eight suggestions to ensure your community thrives:
1. Get staff engaged from the very start
Design the community around your NHS staff. Create a steering committee that involves employees from the very beginning. They should be involved in early planning and goal setting discussions. Ensure input from a wide cross section of employees, bridging all departments, management levels and generations – including those that might not be highly digitally literate.
Getting staff involved early was essential at NDHT. Before it even decided to implement an online community the Trust held a series of face-to-face events where it discussed new options for NHS staff engagement. This revealed significant employee support for looking into electronic solutions that could make engagement opportunities more frequent.
2. Senior management must show support
Senior management has to show that the new community has their full backing. You need them to present the vision of the system to all NHS staff, explaining the difference it will make and the benefits to staff, patients and the organisation as a whole. Make it clear that this is an additional engagement channel rather than replacing those that are already available. Keep people informed of the progress of the system, and take the time to answer any queries/allay any fears that may arise.
3. Assign champions/beta users
Appoint a team of beta users to trial the system and use their feedback to adapt and make improvements. NDHT piloted Staff Voice with 200 users to gather their feedback, fine-tune functionality and populate areas with content ahead of launch. These users are now acting as champions for the system, encouraging colleagues to take part and driving discussions.
4. Make sure the online community is embedded within the organisation
The community has to be easy to use and central to processes and operations so that employees automatically begin to use it. For example, at NDHT, access to Staff Voice is via the Trust's intranet, which staff use on a daily basis. And as it links to data extracted from the electronic staff record, it means the Trust can easily communicate with specific groups, making NHS staff engagement more personalised and therefore improving the user experience. All surveys are now run through the system, including the NHS Staff Friends and Family Test (FFT), which measures how likely staff are to recommend the Trust, as well as heatmap/pulse research targeted at specific groups.
5. Ease of use is key
In their private lives most employees will have become accustomed to social media – and they will expect the same intuitive interface and simplicity from your community. Design your system with this in mind, and above all ensure people can login from all their devices. This extends the community to those that either don't have access to a PC during their working day, or those that want to participate outside of work hours.
6. Keep content fresh and plentiful
Populate the system with content before launch and keep it refreshed as employees will hardly warm to an empty forum with out of date threads. Encourage your champions to start debates and set up new forums around particular interests, departments or challenges. In the case of NDHT as well as forums for particular wards, geographic areas and teams it has socially-led discussions such as around activities in the local community. A gradual 'soft' roll-out that starts by building content with selected groups, rather than going for a 'big bang' launch to the entire workforce is the recommended way to go.
Staff Voice is now host to many traditional engagement activities. For example, nominations for the monthly staff award scheme can be made through the community and the Chief Executive's weekly bulletin includes links to content in Staff Voice, enabling employees to open a conversation on the topics it contains.
7. Respond quickly
When staff do participate, give their feedback or suggestions, you must respond in a timely, public way so they can see their effort is being recognised. If you are implementing their suggestions then keep them aware of progress. If not, explain why. Being heard and getting a response is critical if staff are to continue to contribute.
8. Track progress against agreed goals
Set measurable goals for the launch and subsequent growth of your community. Track usage and activity as well as outcomes and benefits. Metrics on surveys completed, suggestions submitted and the number of threads for best practice sharing signal the level of activity. Qualitative feedback about how easy or useful the system has been, whether feedback has directly resulted in changes and improvements and whether best practice sharing is helping staff manage their challenges gives an insight into the real difference that is being made.
For Staff Voice, the system is providing deeper insight into staff views, enabling the sharing of best practice and new ideas, improving communication with all 3,000 staff and creating efficiency savings. All of this has a positive impact on staff retention, productivity and recruitment and ultimately contributes to higher quality patient care being delivered.
To read more about how NDHT is benefiting from its Staff Voice online community click here to read the full case study.
Want to see how Questback can work for your business?