Customer Experience Matters
Customer experience (CX) is central to business success. However, most companies struggle to understand how customers actually perceive their product or service. Why? Often companies only focus on basic satisfaction metrics rather than going deeper into the real-life experiences of their customers.

Experience is not transactions
Repeat business is not a guarantee of long-term loyalty. A great customer experience covers every interaction and builds customer loyalty by providing additional value beyond price, convenience and habit.

Experience is not satisfaction
Customers want to be more than just simply satisfied when they interact with you. That's why a great customer experience considers not just individual touchpoints, but the cumulative impact of an excellent overall journey.
Take a customer-centric approach using Questback Customer Experience SOFTWARE.
Collect feedback across the customer journey through every survey type via a simple to use customer experience management tool that gives a unified view. Questback is designed to close the gaps between feedback, insight and action in order to deliver a better customer experience.
140% more spending by customers with the best experiences."

Harvard Business Review
Go Beyond the Metrics
Listening to your customers on an individual level – and acting on their feedback – is at the heart of building a better customer experience. Questback's customer experience platform lets you go beyond metrics such as Net Promoter Score (NPS) and CSAT and engage with your customers as people with their own concerns and views.
Feedback can identify issues at key touchpoints before you are aware of them and offer innovative ideas for improvement.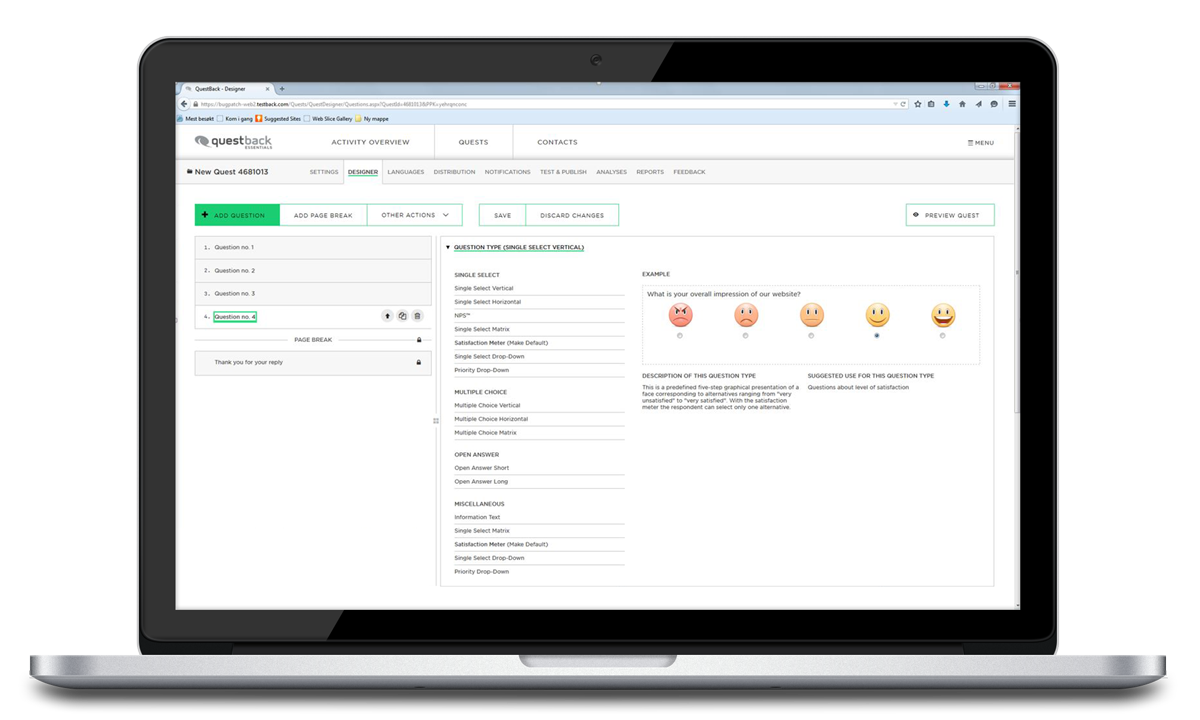 CUSTOMER EXPERIENCE Beyond Touchpoints
Feedback programs that only focus on select touchpoints make it hard to see the big picture. Customers can be satisfied with the service they receive at each touchpoint and yet still be dissatisfied with the overall experience. Questback provides a systematic approach to customer feedback, built on a unified view of customer experience.
Collect process-driven feedback immediately after key touchpoints and integrate with feedback from employees and other relevant business metrics. This makes it straightforward to monitor trends and identifies root causes of problems.
A CX MANAGEMENT PLATFORM Built for Results
To deliver value, insights have to be turned into actions that deliver results. With Questback, real-time dashboards enable companies to track each improvement project as well as their overall impact on the customer experience. It provides a historical view of the feedback captured so companies can see if their improvements are delivering the desired results.
A great customer experience is critical to driving growth and building customer loyalty. Questback's CX software combines the power of dialogue with capabilities to analyze customer feedback and transform insight into action.