Skaff deg avgjørende innsikt på en rask og enkel måte
Med Questbacks Essentials får du innsikt i bærebjelkene i bedriften din: nemlig kundene og personalet ditt. Vi gir deg raske, egenstyrte og lett tilgjengelige tilbakemeldinger fra kunder og på tvers av bedriften.
Essentials gir deg forutsetningene som skal til for å justere produkter, tjenester og forretningsutviklingen etter kundenes og de ansattes behov – i sanntid. Å sitte på innsikt fra disse gruppene til enhver tid plassere deg et hestehode foran konkurrentene dine i jakten på tilfredse, lojale og lønnsomme kunder og ansatte.
Vårt mål er å hjelpe deg med å skape den beste opplevelsen for disse gruppene, som du i sin tur kan høste fruktene av i form av en mer lønnsom og effektiv virksomhet.
TA TEMPERATUREN NÅR DU TRENGER DET
Do-it-yourself Survey Solution
Velg kalenderdrevne tilbakemeldingerFå tilbakemeldinger for eksempel én gang i året, kvartalet eller uken.
Velg ad hoc-tilbakemeldingerFå tilbakemeldinger etter arrangementer som julebord, lanseringsfester og andre tilstelninger.
Velg "alltid på" -tilbakemeldingerFå tilbakemeldinger via en app eller lenke på nettsiden hvor kunder kan gi tilbakemeldinger når enn de vil.
Velg hendelsestriggede tilbakemeldingerFå tilbakemeldinger automatisk etter spesifikke hendelser med et Essentials-integrert system. Dette kan for eksempel være en trivselsundersøkelse etter en nyansattes første uke på jobb eller spørsmål til en kunde som nettopp har valgt å avslutte sitt medlemskap hos deg.
Bedrifter med meget engasjerte ansatte er 147 % mer lønnsomme per aksje enn konkurrentene, ifølge Gallup.
1 MILLION UNDERSØKELSER FULLFØRES HVER DAG
Vi er stolte over å kunne hjelpe kunder over hele verden med å gi de verdifull innsikt, 24/7, 365 dager i året.
QUESTBACK'S ESSENTIALS
REACH AND RESPOND TO THE PEOPLE THAT MATTER MOST
No matter what business you're in, your people and your customers are, ultimately, what shapes and defines you. Organizations need to be receptive and reactive to challenge and ideas from both these groups – always.
Questback Essentials empowers your managers, not only to seek out team and customer insight, but to engage in a virtuous and connected dialogue. Flexible, scalable and with a single workflow, our survey solution takes users on a seamless journey starting with feedback collection, reporting in the middle and follow-up at the end.
Fuel people innovation and growth with quick and easy feedback for the masses.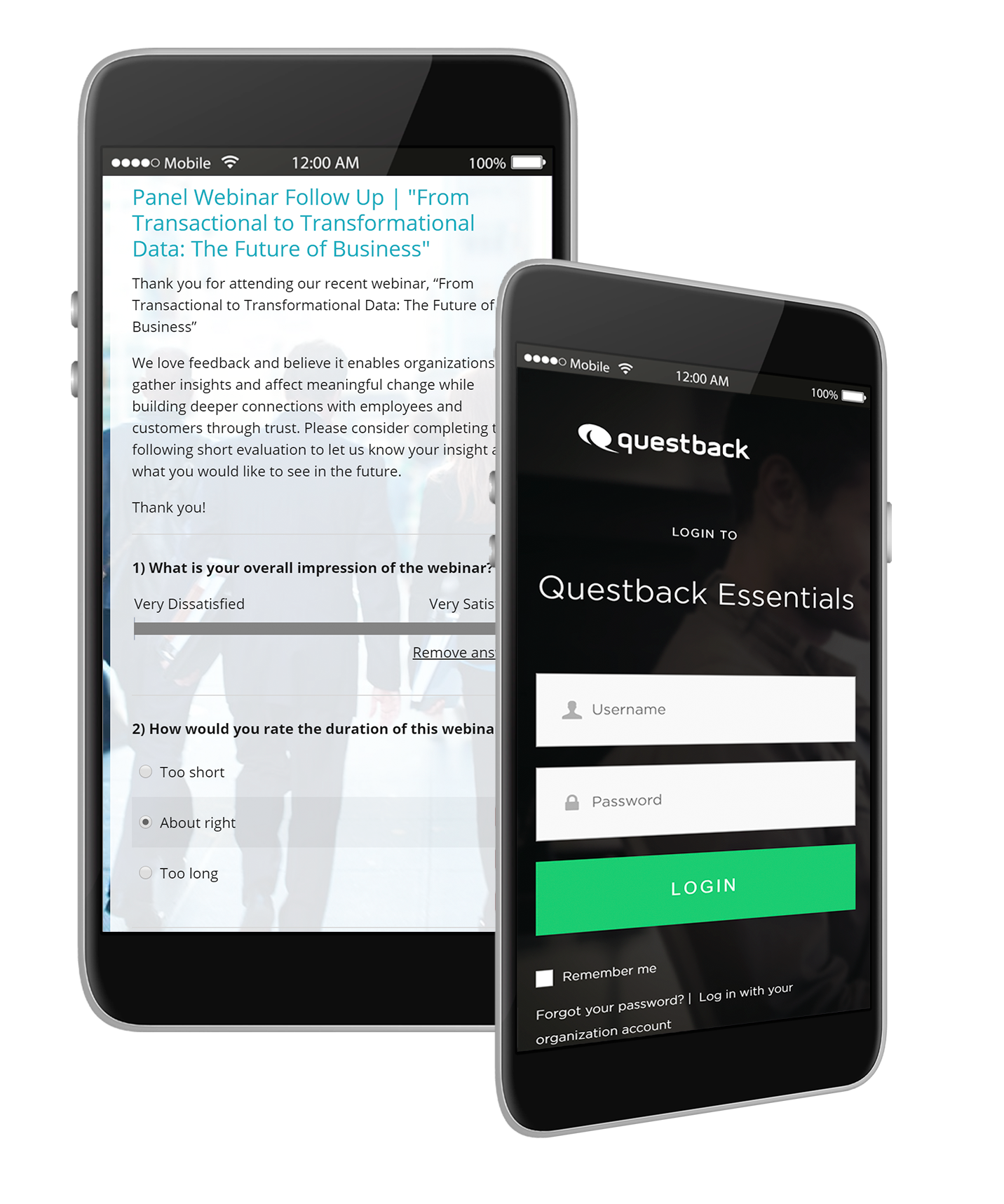 QUESTBACK'S ESSENTIALS FEATURES

Out-of-the-box:
35 pre-populated surveys, covering voice
of the employee, voice of the customer and market research, for you to choose from. And if it's bespoke you want, bespoke you'll get with custom surveys.

Language capability:
If English isn't your first language,
worry not. Our pre-populated surveys
come in four languages with the
ability to upload other language as
you fancy.

Live reports:
Why wait for a monthly, even
weekly report? With Live Reports
from Questback you can check any
time 24/7 and see how your survey
is doing.

Easy as 1,2,3:
Our platform's intuitive design and logical journey enables users, new and old, to get productive in no time at all.

Dance to your tune:
Send regular or one-off surveys to employees, customers and suppliers whenever you need to.

Branded as you like:
In-built theme and media managers give all your surveys a consistent and tailored look and feel.

Stress free from the get-go:
Tutorials and comprehensive onboarding get you up and running right away.

Set and forget:
Set the logic for automated follow-up
with notification emails.

No fuss or silly mistakes:
Best practice templates and smart wizards guide and technically validate your surveys.

Power full logic:
Tailor questions and personalize
the survey experience to reduce
dropout rates and get invaluable
insight, quickly.

Co-create and collaborate:
Engage your audiences in a two-way,
open dialogue facilitating closed-loop feedback. Trade dissatisfaction for satisfaction.

Grow super stars:
Appoint super-heroes to manage your internal user-groups. And share the power of feedback with access to our user community 24/7.
Find out how Questback Essentials can
help you accelerate feedback.
Are you missing millennials, giggers, joiners and leavers, or are you just missing the point?
Read More
webinarer
Read More
infografikk