The Employee Journey Matters
Employees go through a journey at your organization, from onboarding through exit. They have different needs at each stage of their lifecycle and can offer different insights into your business. Listening to your people across the employee journey is, therefore, vital if you want to operate effectively.

Ensure a positive onboarding experience
90% of employees make the decision to stay with a new employer within their first six months. Do you know if your employee onboarding experience is positive? Measuring satisfaction and intervening early reduces problems of turnover and disengagement during later stages.

Gather feedback upon employee exit
Digging into why employees leave delivers insight into areas for improvement and helps you change processes to ensure loyalty from your remaining employees.

Gather feedback at key touchpoints
Don't wait for an annual survey. Capture feedback at key touchpoints such as on entry, onboarding and at career growth milestones.

DRIVE PRODUCTIVITY FASTER
When people start a new job, they need to settle in before contributing. Cut the time to productivity by listening to their feedback and acting on this insight.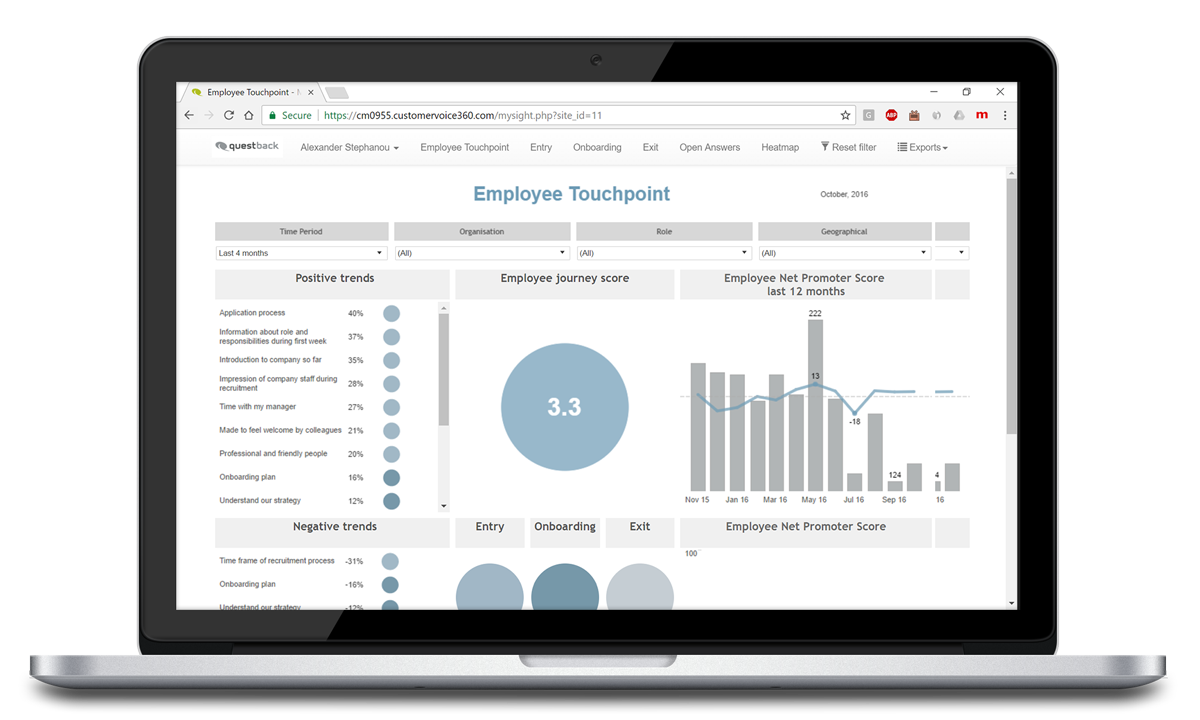 So, do you know what your employees are thinking, how they viewed onboarding or other key touchpoints?
Questback Employee Touchpoint makes it easy to capture feedback, conduct structured analyses, identify trends and reveal key insights to improve the employee journey.
Contact Us
Built for The Journey
Understanding the employee journey from your people's perspective can help drive engagement, alignment, loyalty and performance. Our employee lifecycle management software solution, Employee Touchpoint, makes it easy to collect and act on the process and milestone-based feedback at key employee lifecycle touchpoints such as entry, onboarding and exit.
Employee Touchpoint contains multiple modules:
Entry Pulse collects qualitative and quantitative feedback after the first week in a role
Onboarding Pulse provides insight into the full onboarding process and can outline next steps for employee development
Exit Pulse can uncover issues and processes that undermine employee loyalty and engagement
Structured data captured automatically and seamlessly integrated with additional touchpoints, all customized to meet the needs of your organization.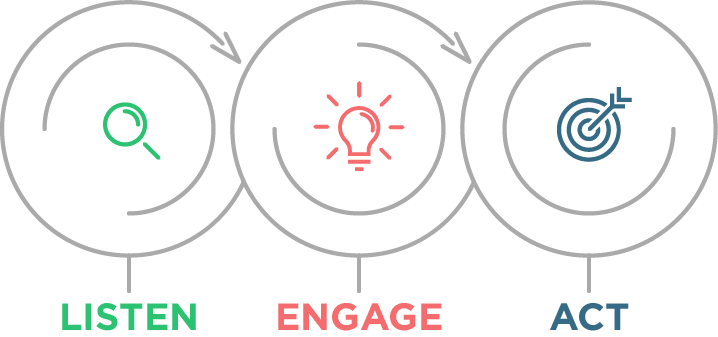 Built for Results
Real value comes from turning feedback into action. Questback provides visual, personalized dashboards so managers can proactively identify opportunities to create truly engaging employee journeys, spot issues and trends and use feedback to make better decisions.
Our solutions close the loop from feedback to insight to action. Understanding the employee journey is crucial to reducing employee turnover, increasing productivity and making better-informed decisions.m
Contact us to Learn More
Unlocking feedback insight across the employee journey.
Read More
Solution Sheets The war for talent is over. The talent won.
Read More
Webinars