ATTRACT, RAMP-UP AND RETAIN TOP TALENT TO DRIVE GROWTH
In hypercompetitive times, it is the skills, innovation and experience of your people that make the difference between success and failure. Attracting, ramping-up and retaining top talent is now a business imperative.
Talent is in control
Attraction Issues A wider choice of jobs than ever before

Retention issues A more mobile and increasingly transient work force

Productivity issues Competitive pressure to quicken time to full productivity

Want to transform how you attract, retain and ramp-up your talent?

QUESTBACK'S EMPLOYEE TOUCHPOINT
LISTEN AND ACT ACROSS THE EMPLOYEE JOURNEY
To win the war for talent companies need to take a journey-based approach, treating employees more like their customers, by listening across the employee lifecycle.
Questback's Employee Touchpoint gives you the real-time insight to understand, manage and optimize the employee journey:
Use candidate feedback to improve recruitment and attract the right talent
Make employees effective, faster, by listening and acting on onboarding feedback
Understand and fix the issues that cause employees to leave
Employee Touchpoint is a simple to use cloud-based feedback solution that automatically collects data across the journey and delivers it to managers through personalized, visual dashboards, providing early warning of issues so that you can fix them fast, and fix them for good.
EMPLOYEE TOUCHPOINT FEATURES
Built on best practice and ready to use out of the box
Seamless integration with other HR systems
Covers major touchpoints in the employee journey from recruitment and entry to exit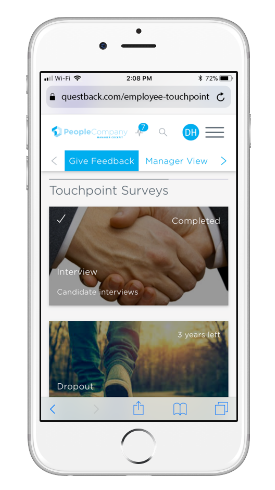 Intelligent experience measurement system
Automatically triggers predefined feedback surveys as each touchpoint is reached.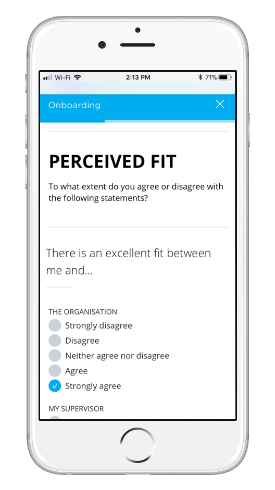 Feedback automatically processed
Immediately analysis within Employee Touchpoint.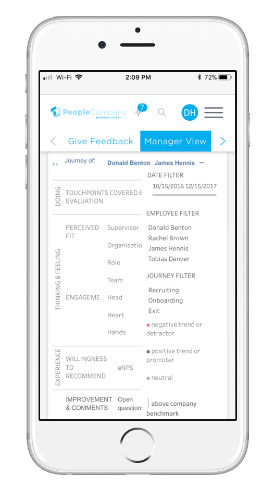 Dashboard-based reporting
Insights shared via role-based, drill-down, real-time dashboards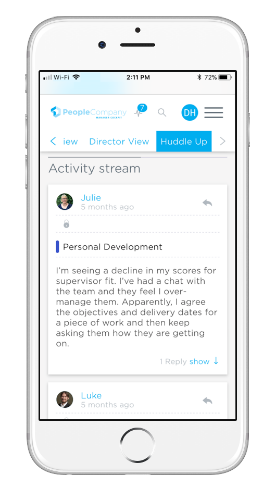 Action planning
Built in ideation and action planning to close the feedback loop.
Organizations that successfully manage and nurture talent achieve 26 percent higher revenue per employee and 41 percent lower turnover among high-performing employees, compared to their peers.

Bersin by Deloitte

Experience the business benefits of listening across the employee journey. Listen to our webinar series now.
The war for talent is over. The talent won.
Lee Más
Webinar