DEMOCRATIZE LEADERSHIP FEEDBACK
RAPID SELF-SERVICE, ON-DEMAND FEEDBACK WITH QUESTBACK LEADERSHIP 360-FEEDBACK TOOL
Increasing leadership effectiveness is critical in ultra-competitive markets. Listening and acting on 360-degee feedback develops the leadership skills your business needs by highlighting progress and pinpointing areas for improvement on the leadership journey. But 360-feedback tools can be time-consuming to manage.
Questback democratizes 360-feedback, making it available to all across your organization.
Listen, develop, perform
360-feedback tool for Leadership Development
NURTURE ALL LEADERSExtend manager-driven 360-feedback to unlock skills, reduce churn.
TRANSFORM HR PRODUCTIVITYIncrease performance, reduce administration while retaining control with innovative leadership feedback tools.
SUPPORT CHANGING BUSINESSAdapt to modern organizational structures and deliver exceptional employee experience.
According to Gartner, Leadership Development is a top three Human Capital Management priority for 2019. 47% of organizations struggle to develop effective leaders.
DO THE MATH FOR YOURSELF
Experience the power of Questback Leadership 360 and take a free personal trial now.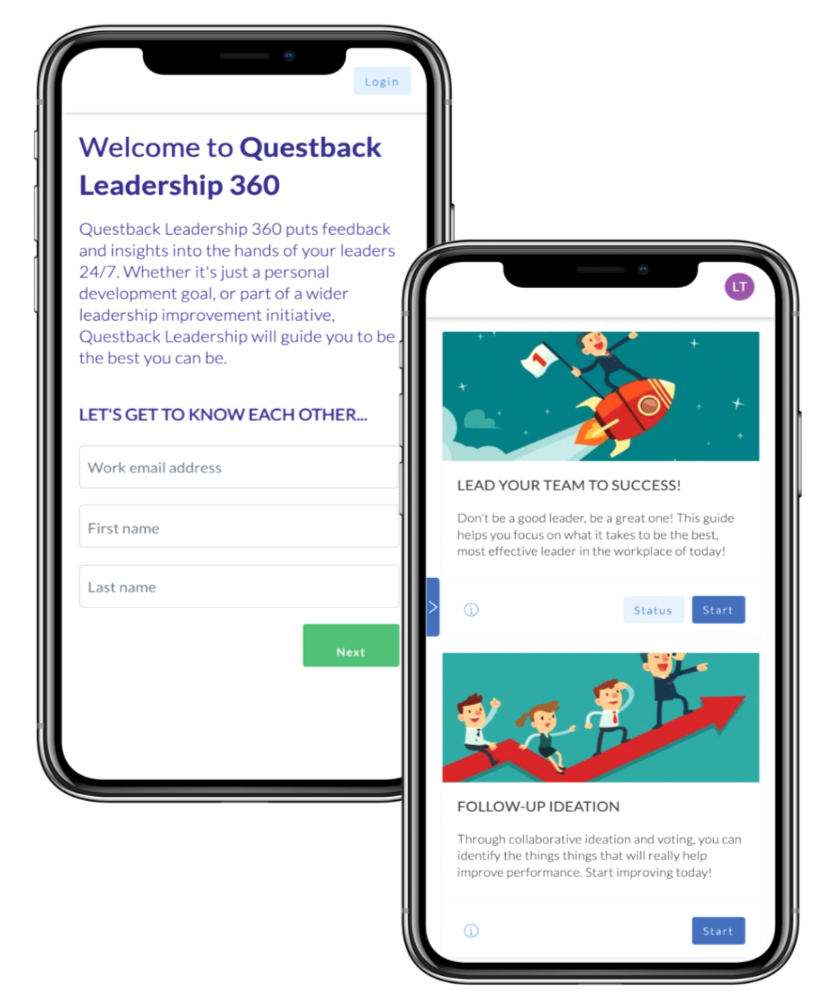 QUESTBACK LEADERSHIP 360
DEMOCRATIZING LEADERSHIP DEVELOPMENT
Developing leaders relies on collecting and acting on feedback on their performance. 360-feedback tools enable this evaluation through leadership surveys, but can be time and resource intensive, limiting their use.
Enable leadership self-assessment at all levels with Questback Leadership 360. A powerful, self-service multi-rater 360-feedback tool it enables manager-driven, on-demand feedback. Highlight areas for improvement, reward progress, and share best practice.
Available in Basic and Enterprise editions it is fast to deploy, simple for HR to manage and intuitive to use, delivering flexibility to modern organizations and their changing structures.
360-feedback for all. Create effective leaders everywhere with Questback.
The good news is that inspirational leadership can be taught, and it can be learned. In fact, all of us possess some of the qualities of inspiring leaders. The secret is to help leaders build upon the strengths they currently have and shore up any qualities that may compromise their ability to inspire. This starts with 360-degree feedback to assess each leader's current ability to inspire.

Bain & Company
QUESTBACK LEADERSHIP 360 GIVES YOU
Self-driven:

On-demand 360-surveys for managers,centralized control for HR

Adaptive:

Flexibility to support leadership performancewithin modern organizational structures

Effective:

Fast time to value through automation and ease of management

Knowledge-based:

In-built guidance and follow-up actionsto develop leadership skills

Secure:

ISO and BSI-certified data centerswith fully GDPR-compliant data processing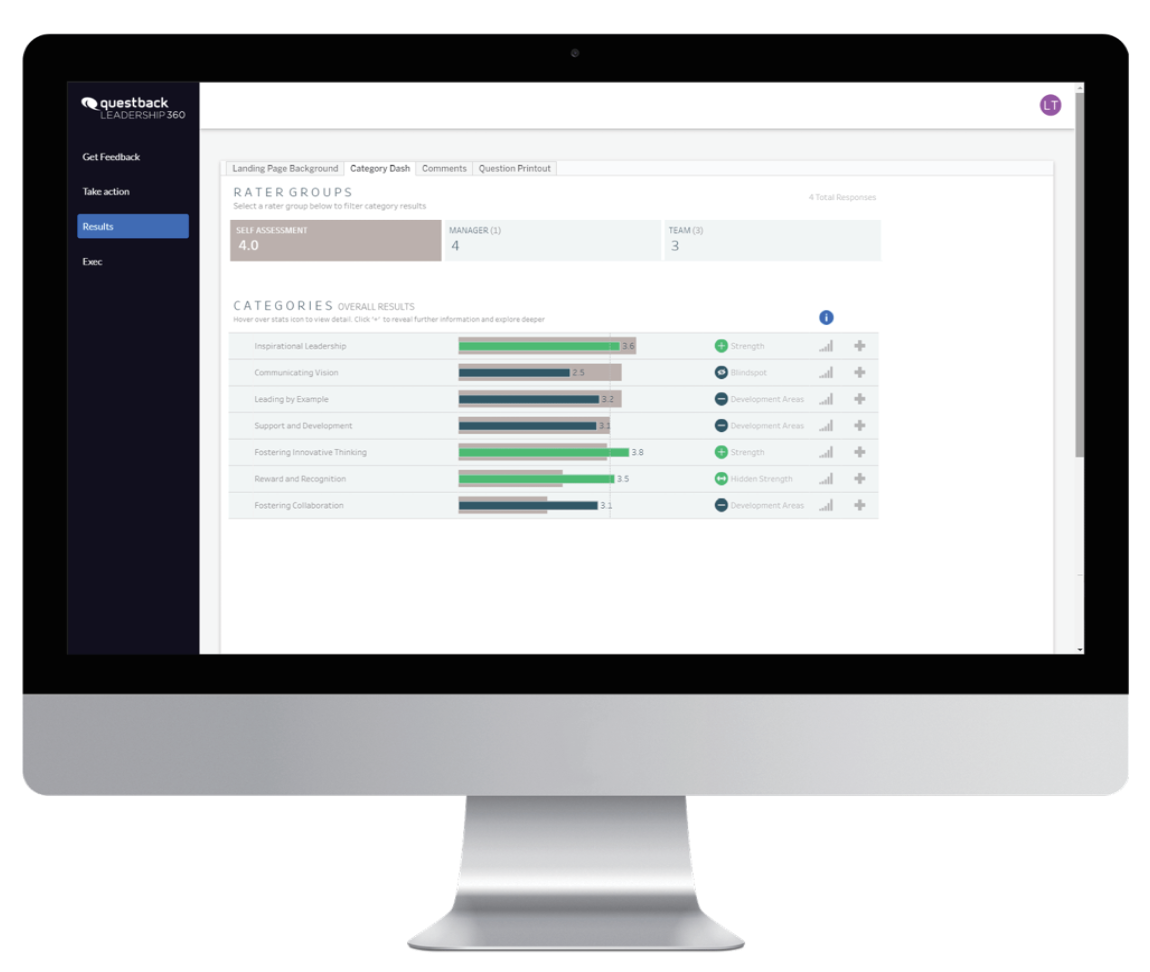 STRONG LEADERS DRIVE TRANSFORMATION
Read our in-depth solution sheet to learn how Questback Leadership 360 can benefit your business and transform your 360-feedback effectiveness.
Comparing BASIC and ENTERPRISE Editions

| | | |
| --- | --- | --- |
| | | |
| | BASIC | ENTERPISE |
| Self-service portal | ✓ | ✓ |
| Multi-rater support – including external raters | ✓ | ✓ |
| Comprehensive dashboard and downloadable reports | ✓ | ✓ |
| Automatic recommended improvement actions & collaborative action management | ✓ | ✓ |
| Multi-language support | ✓ | ✓ |
| Personalization with own logo, questions & leadership model | | ✓ |
| Integration into own business systems & processes | | ✓ |
| Automated and configurable rater-group selection | | ✓ |
| Executive dashboards for central HR | | ✓ |
| Survey support for employees without email | | ✓ |
| Crowd-source ideation and action management | | ✓ |
| Access to Questback Leadership Experts | | ✓ |
360-FEEDBACK OUT OF THE BOX
BASIC EDITION
Take a free trial of Questback Leadership 360 and experience the power of feedback at the push of a button.
GET STARTED TODAY
A TAILORED SOLUTION TO YOUR BUSINESS
ENTERPRISE EDITION
Register for a one-to-one demo of Questback Leadership 360 for comprehensive results tailored to your business.
Request a tailored demo
In this blog, Matthias Frye, our Regional VP at Questback Central Europe, shares ten practical leadership 'hacks' based on personal experience during his time at Questback.
Read More
Blog
This is the second in our series of webinars exploring the topic of Leadership. Watch now.
Read More
Webinars