Gather insights at speed to make decisions with ease
At Questback, we believe open and simple feedback is what you need to win in an increasingly interconnected and complex world. Your ability to anticipate the needs of those around you – your customers, your employees, your suppliers – isn't a luxury. It's a necessity by which to grow and accelerate your business.
Working with customers from all walks of life, we've perfected Questback Essentials. Our survey solution delivers the insights you need, when you need them.
SIMPLE, SEAMLESS AND CONTINUOUS FEEDBACK
Do-it-yourself Survey Solution
OPEN AND CLOSE THE LOOPAllow leaders, employees, department managers and customers to establish a two-way dialogue to understand, and resolve where needed, why things are happening.
IDEAS EQUAL INNOVATIONUse feedback, in the moment and continuously, to prove you're not only listening but also acting based on what on what you hear.
ACCELERATE CROSS-TEAM, CROSS-BORDEREasy to deploy solution that allows local and decentralized feedback initiatives over the course of your employees journey.
KEEP YOUR CUSTOMERS HAPPYFind out what your customers are thinking so that you can be more creative and adaptable in your offering and interactions.
Companies powered by highly engaged employees outperform their peers by 147% in earnings per share, according to Gallup.
1 MILLION SURVEYS COMPLETE EVERY DAY
We're proud to help customers all over the world derive the value they need from insights, 24/7, 365 days of the year.
QUESTBACK'S ESSENTIALS
REACH AND RESPOND TO THE PEOPLE THAT MATTER MOST
No matter what business you're in, your people and your customers are, ultimately, what shapes and defines you. Organizations need to be receptive and reactive to challenge and ideas from both these groups – always.
Questback Essentials empowers your managers, not only to seek out team and customer insight, but to engage in a virtuous and connected dialogue. Flexible, scalable and with a single workflow, our survey solution takes users on a seamless journey starting with feedback collection, reporting in the middle and follow-up at the end.
Fuel people innovation and growth with quick and easy feedback for the masses.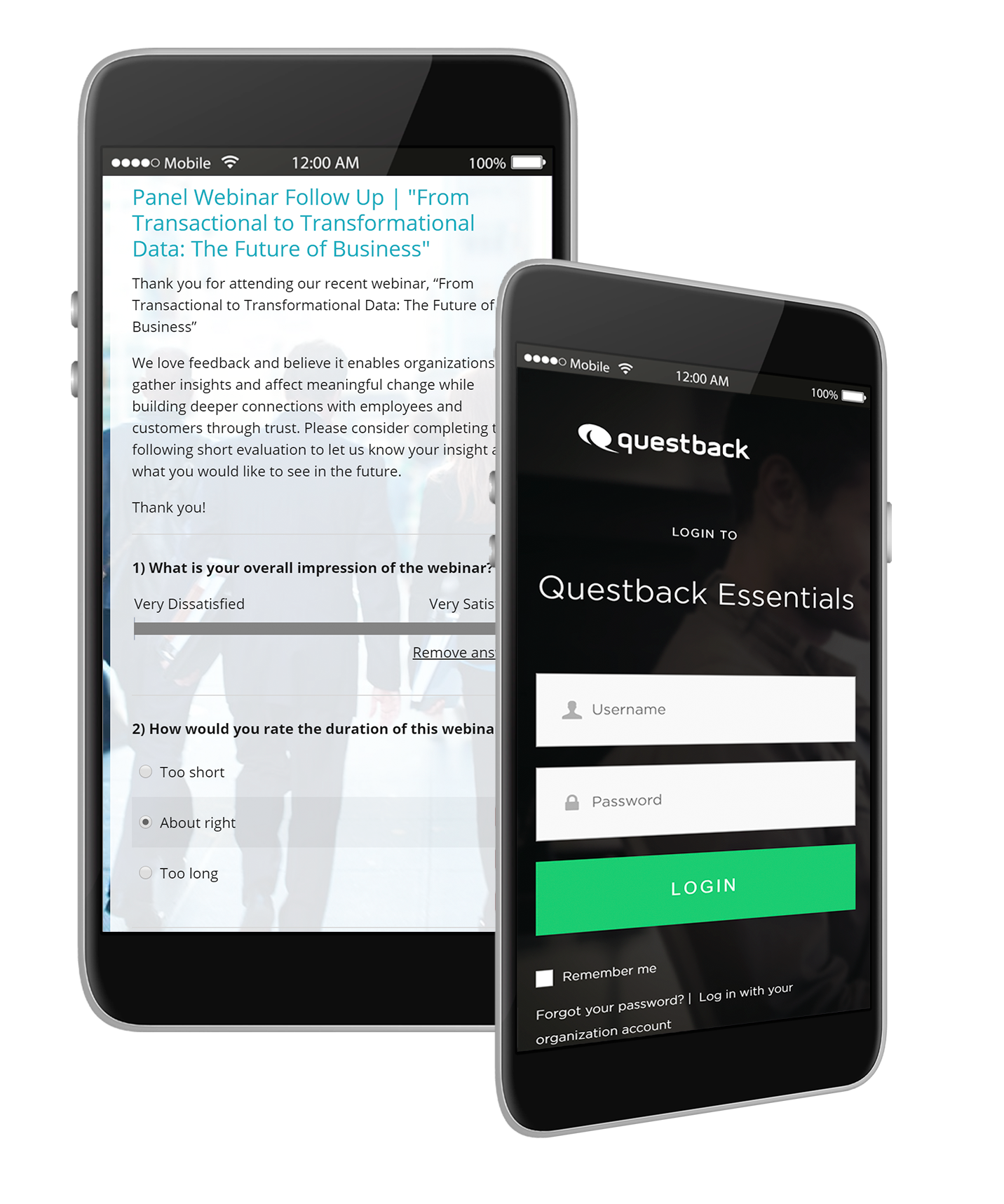 QUESTBACK'S ESSENTIALS FEATURES

Out-of-the-box:
35 pre-populated surveys, covering voice
of the employee, voice of the customer and market research, for you to choose from. And if it's bespoke you want, bespoke you'll get with custom surveys.

Language capability:
If English isn't your first language,
worry not. Our pre-populated surveys
come in four languages with the
ability to upload other language as
you fancy.

Live reports:
Why wait for a monthly, even
weekly report? With Live Reports
from Questback you can check any
time 24/7 and see how your survey
is doing.

Easy as 1,2,3:
Our platform's intuitive design and logical journey enables users, new and old, to get productive in no time at all.

Dance to your tune:
Send regular or one-off surveys to employees, customers and suppliers whenever you need to.

Branded as you like:
In-built theme and media managers give all your surveys a consistent and tailored look and feel.

Stress free from the get-go:
Tutorials and comprehensive onboarding get you up and running right away.

Set and forget:
Set the logic for automated follow-up
with notification emails.

No fuss or silly mistakes:
Best practice templates and smart wizards guide and technically validate your surveys.

Power full logic:
Tailor questions and personalize
the survey experience to reduce
dropout rates and get invaluable
insight, quickly.

Co-create and collaborate:
Engage your audiences in a two-way,
open dialogue facilitating closed-loop feedback. Trade dissatisfaction for satisfaction.

Grow super stars:
Appoint super-heroes to manage your internal user-groups. And share the power of feedback with access to our user community 24/7.
Find out how Questback Essentials can
help you accelerate feedback.
Are you missing millennials, giggers, joiners and leavers, or are you just missing the point?
Læs mere
webinarer
Læs mere
infografik